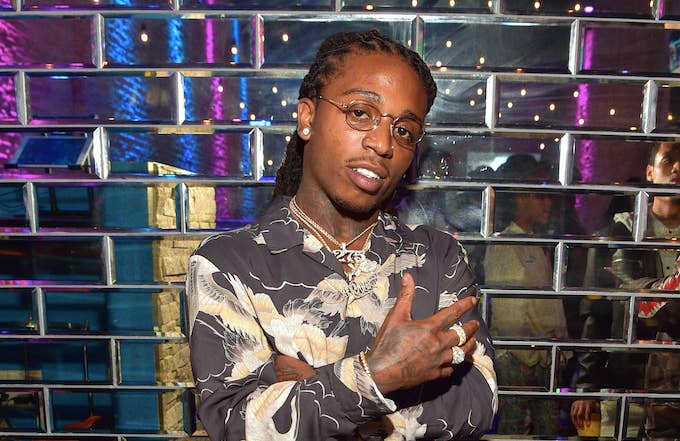 Jacquees scored a legal victory.
Back in March, the 24-year-old singer-songwriter was arrested in Miami for allegedly driving without a seatbelt, disorderly conduct/breach of peace, and failure to obey the lawful order of a police officer. Luckily for Jacquees, only one out of his seven arresting officers appeared for a scheduled court hearing Tuesday, prompting prosecutors to drop all three charges, according to TMZ.
There was a lot of controversy surrounding Jacquees' Miami arrest, as many people criticized authorities of using excessive force. Video shows law enforcement manhandling the artist during a traffic stop on Ocean Drive, while bystanders shouted their objections.
Cops claimed they asked Jacquees to pull over because he wasn't wearing a seatbelt; the singer allegedly refused at first.
"The defendant did not obey my command and instead kept driving the vehicle at a low rate of speed with heavy traffic still northbound on Ocean Drive," the officer wrote in the report. "He was then asked again to pull over and to provide me with his driver's license. The defendant once again refused to obey a lawful command from this officer."
Following the incident, Jacquees hinted he would take legal action against the Miami Beach Police Department:
"I'm here to let all of my fans and people who support me know that I am physically and mentally okay," he said in a video posted on TMZ. "At this time, I have been advised not to speak on this situation, and to let my legal representatives to look at the situation, and handle it how they feel is necessary."