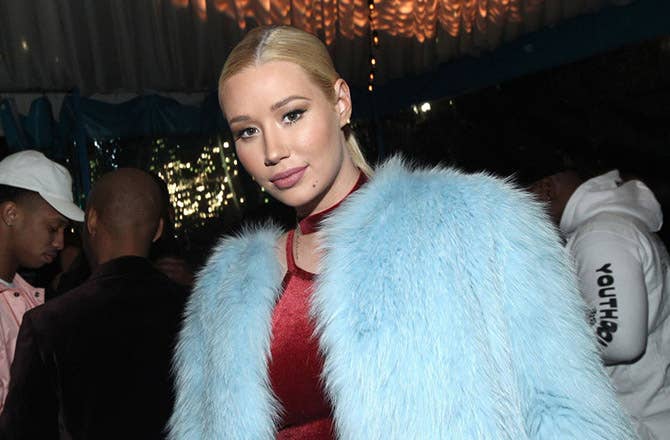 It turns out that an Iggy Azalea and Azealia Banks collaboration is actually happening.
A little over a week ago, the longtime foes publicly squashed their beef on social media. Iggy shared a post in which she expressed her empathy and insisted there was no hate: "As a 27 year old adult woman just know: I wish you well from one human to another and joke collaboration or not as adults we should move past trivial beef with strangers."
The post came just a few days after Azealia posted what appeared to be a wishful to-do list. It included getting signed by Jay Z, dropping the Fantasea 2 mixtape, and "releasing this Iggy collab." People were unsure if Azealia was joking, or if they two artists actually had worked on music together.
Well, on Monday afternoon, Iggy confirmed that she and the Harlem rapper have a song on the way.
And it will appear on Iggy's upcoming album, Digital Distortion.
​
"Public Service Announcement, Azealia is going to be on DD. We are collaborating," Azalea wrote on Snapchat."Burn your wigs now or preserve them in your freezer for release day."
Shortly after revealing the surprising news, Iggy addressed the critics on Twitter, explaining the reasoning behind the decision.
Digital Distortion is expected to drop later this year, following several push-backs. During an interview with Zane Lowe back in March, the 27-year-old Australian talked about the album's delay, and said she had to scrap the first version because it was too negative.
"I think the first album, that I scrapped, was definitely very aggressive and angry and abrasive and that's how I felt at the time," she said. "It was when I was in the pitfalls of controversy and my career was fallen off a cliff and I didn't really know what was going on with that or if I felt like I wanted to make music. I felt angry about certain things and it was in my music, which is good, but I just don't feel that way any more."