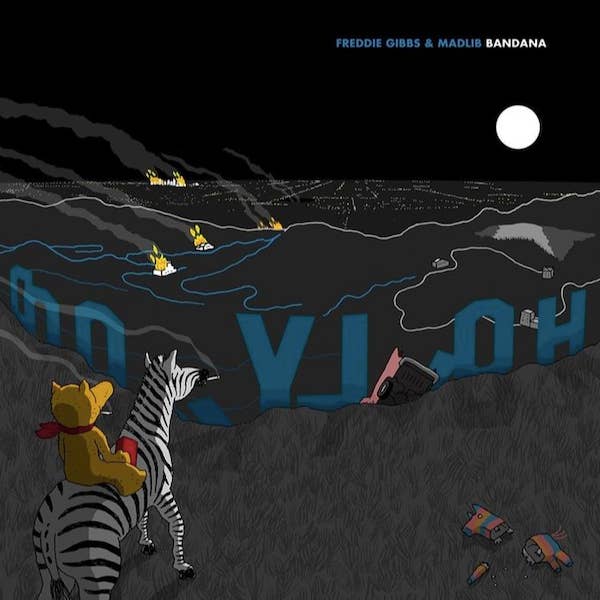 Freddie Gibbs and Madlib's long-awaited Bandana album has finally arrived.
The project, which serves as the follow-up to their 2016 joint effort Piñata, was teased all the way back in 2016 during an interview with Red Bull Music Academy. During that sit-down, Madlib revealed Bandana would feature beats originally intended for Kanye West's The Life of Pablo.
"He didn't like them beats," Madlib said. "Six CDs. Gibbs took all of them, rapped over everything. Kanye waited too long, Gibbs rapped over everything."
More than two years later, Bandana is now available to the public.
The album spans 15 tracks and includes guest appearances by Anderson .Paak ("Giannis"), Yassin Bey and Black Thought ("Education"), as well as Pusha-T and Killer Mike ("Palmolive").
"There's definitely not an album like this," Gibbs told Complex about Bandana. "I think a lot of guys are influenced by Piñata. I fathered a lot of styles off that album. And I'm about to have some kids when this album comes out."
Bandana is available to stream now on Apple Music and Spotify.
Upcoming tour dates
6/25 - Los Angeles, CA @ The Roxy
6/27 - Los Angeles, CA @ The Roxy
7/6 - New York, NY @ MoMA PS1 Warm Up
7/20 - Chicago, IL @ Pitchfork Music Festival^
8/16 - Orpund, Switzerland @ Royal Arena Festival
8/17 - Portugal @ Paredes De Coura Festival
8/31-91 - Philadelphia, PA @ Made in America Festival
8/25 - London, UK @ Maiden Voyage Festival (DJ Set)
**= Madlib performance
^= Freddie Gibbs performance