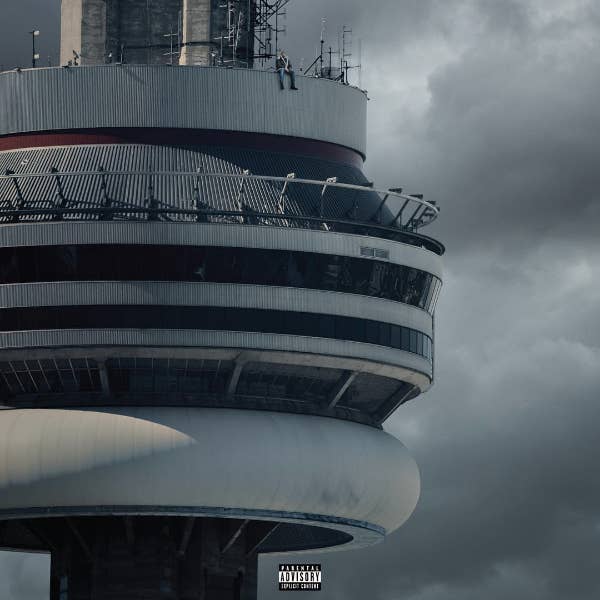 Can anyone dethrone Drake at this point? For the ninth consecutive week, the Toronto rapper's fourth studio album, VIEWS, has landed at No. 1 on the Billboard 200 charts. The steady reign has now solidified VIEWS as the third hip-hop album to hold on to the top spot for so long—trumping Eminem's The Marshall Mathers LP with eight weeks at No. 1 and trailing Vanilla Ice's To the Extreme with 16 weeks, as well as MC Hammer's Please Hammer Don't Hurt 'Em with 21 weeks.
According to Billboard, VIEWS earned 111,000 equivalent album units this past week, thanks in large part to its popularity on streaming services like Apple Music and Spotify. Billboard also points out that within the last decade, the only albums to stay at No. 1 for so long were Taylor Swift's Fearless and 1989 with 11 weeks each, the Frozen soundtrack with 13 weeks,  and Adele's 25 and 21 albums with 10 and 24 weeks, respectively. But perhaps more impressive is that the last time an album by a male artist spent nine consecutive weeks at No. 1 was in 1992 when Billy Ray Cyrus' Some Gave All dominated the charts for 17 weeks.
Beyoncé's Lemonade took the No. 2 spot with 48,000 units; The Avett Brothers debuted True Sadness at No. 3 with 46,000 units; Twenty One Pilots' Blurryface took the No. 4 slot with 38,000 units; and Rihanna's ANTI rounded off the top 5 with 37,000.
As you can see, the amount of units VIEWS has moved is considerably higher than the other top fives—making the album seemingly untouchable; however Blink-182 might change all that. According to a report by Hits Daily Double, the band's new album California is projected to earn 125,000 to 130,000 units following its release this past Thursday (June 30). It would be enough to pull ahead of Drake and put an end to VIEWS' impressive streak.

So, will it happen? We'll just have to stay tuned.