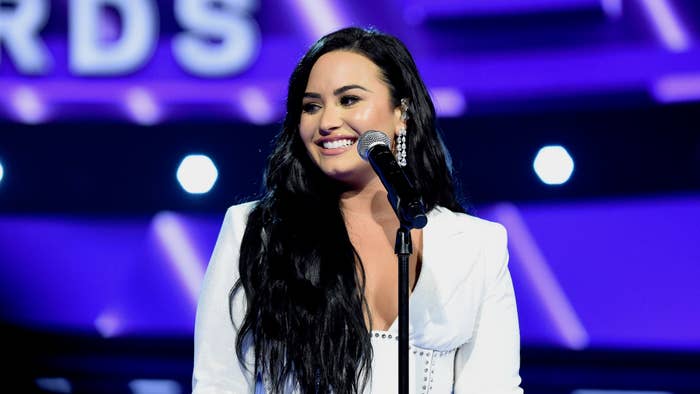 Demi Lovato has come out as pansexual. 
The 28-year-old artist discussed her sexuality during a recent interview on the Joe Rogan Experience podcast. Lovato told the host she still wanted to have children someday, but couldn't see herself taking the "traditional" route: getting pregnant within a heterosexual relationship.
"I think if anything I want to adopt," she said. "I was engaged to a man (Max Ehrich) last year. I totally thought I'd be married, maybe pregnant by now. And that's not the case. I also don't know if I'm going to end up with a guy, so I can't really see myself maybe getting pregnant. I'm so fluid now — and a part of the reason why I am so fluid is because I was super closeted off."
Rogan pressed Lovato on the term "fluid," asking if she was sexually attracted to both men and women. Lovato, who opened up about her sexual fluidity in 2020, responded in the affirmative and told the host she liked "anything, really."
"What do they call that? Like pansexual or something like that?" Rogan asked.
"Yeah, pansexual ..." Lovato said. "I heard someone call the LGBTQIA+ community the alphabet mafia. That's it! That's what I'm going with. I'm part of the alphabet mafia and proud."
Lovato told Rogan she realized she was attracted to women during her childhood, revealing it was Sarah Michelle Gellar and Selma Blair's makeout scene in the 1999 film Cruel Intentions. It was the moment, however, that led her to feel a sense of shame, as she was brought up in a Texas, Christian household.
"Any attraction that I ever had toward a female at a young age, I shut it down before I even let myself process what I was feeling," she admitted. 
Lovato also addresses her sexuality and her former engagement in her new YouTube Original docuseries Dancing with the Devil; episode three, titled "Reclaiming Power," premiered Tuesday afternoon.
Lovato is also gearing up to release her seventh studio album, Dancing with the Devil … the Art of Starting Over. It marks her first full-length project since 2017's Tell Me You Love Me, and is set to hit streaming services this Friday.