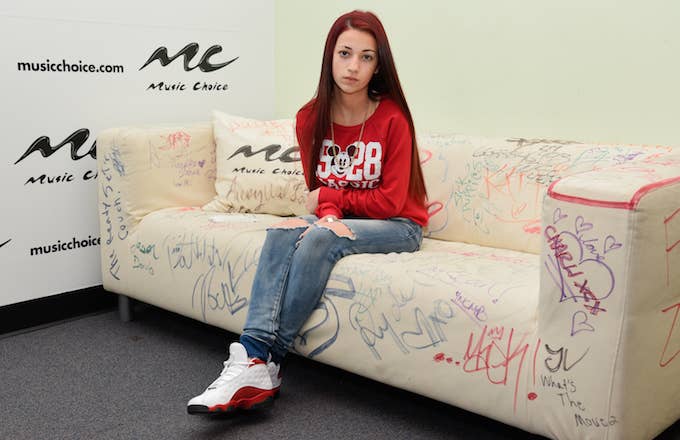 Internet sensation-turned-fledgling rapper Danielle Bregoli, aka Bhad Bhabie, could be gearing up for a legal battle.
According to TMZ, the 14-year-old's mother has filed a lawsuit against DJ Suede over unpaid royalties from his 2017 "Cash Me Outside" remix. Barbara Bregoli claims the DJ and his manager took advantage of her daughter after they agreed to let them use her voice and viral catchphrase—"Cash me ousside"—on the record.
Legal documents obtained by TMZ state Bhabie had accepted a deal in which she would receive half of the profits from the remix; however, Bregoli claims DJ Suede refused to uphold his end of the deal after he wasn't hired to be Bhabie's touring DJ. The mother insists the DJ is now seeking revenge on her daughter by denying her a fair cut of the reported $250,000 profit.
In a 2017 interview with Rolling Stone, DJ Suede spoke about his "Cash Me Outside" remix, and how he was surprised by all the positive response.
"Every remix I say I'm not gonna do are the ones that go viral the fastest. I told my lady friend how a bunch of people wanted me to remix that clip of her on Dr. Phil. She was like 'Don't do that. It's so lame and that will send a bad message to the kids,'" he explained. "I didn't really think the kids would care like that, so a day went by and my DMs went crazy. [The meme] was already pretty popular online, and I decided to make the mix because I had a lot of fans asking for it. After a hundred times hearing that, I did it. I didn't think it was going to do anything because that particular video had been out for a long time. So I dropped, and I guess no one had seen it coming. It just blew everybody away I guess."
The DJ was also responsible for the wildly popular #UNameItChallenge, which featured a sample of gospel singer Shirley Caesar naming off a list of traditional Thanksgiving foods.
There were several reports that Caesar had filed a $5 million lawsuit against DJ Suede for "unauthorized use" of the clip; however, the singer later shot down these rumors on social media, revealing her team had only filed a temporary injunction.