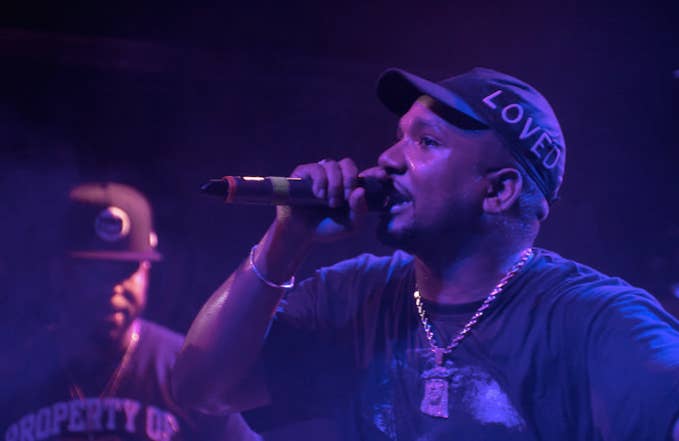 What would it take to get Joe Budden back on the mic? Half a milli, it seems.
After getting a not-so-flattering name drop on Budden's podcast, CyHi the Prynce called out the outspoken broadcaster in a promotional Team Backpack cypher for the 2018 A3C Festival:
I don't need a Xanny or a shot of brandy/To murder a n***a, playin' me like I'm cotton candy/Get ya kids napped, tell 'em pop the nanny/Turn your house into The Adams Family/Whoa, you wanna know what I just thought about?/I think that I should've been in Slaughterhouse/Leave you with a ribeye tryna clown me/Boy, I knock the legs off a cow just to ground beef/So call Backpack or Smack and tell 'em set it up/And anyone who wanna bring a half a mill, we can bet it up."
Budden was seemingly intrigued by CyHi's challenge, claiming he might come out of retirement for the proposed cash prize.
"CyHi, I have a million dollars, and I'll clean your ass up. You can't come to the party with that. ... I'm retired; I'm not replying to none of these n***as. ... But half a mill, track for track? Of course, we gotta do that," Budden said on his eponymous pod. "Any rapper that money has been on the line for—nah, they never really put it up. ... I don't think that CyHi has $500,000 of disposable income." Budden added, "I want my half a mill, I don't want to lose it."
Though Budden is understandably hesitant, the fans are eager to see the rappers go head-to-head. On Tuesday, CyHi responded to a Twitter comment supporting his challenge. The No Dope on Sundays MC said Budden was "my guy," but claimed the battle would cause some serious damage to Budden's music and podcast career.
This sparked a mild back-and-forth between the two, who exchanged several jabs that included accusations of haterism and selling out.
Budden has yet to formally accept the challenge, but CyHi is clearly ready for him to set something up. While we hold our collective breath for confirmation, you can check out some of their tweets below.