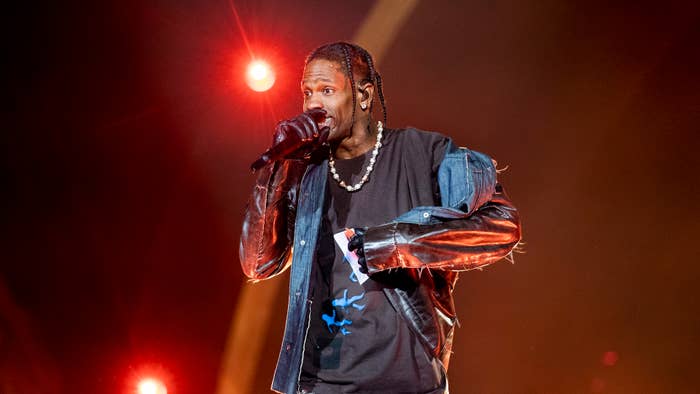 UPDATED 4/29, 1:30 p.m. ET: Concert Crush: The Travis Scott Festival Tragedy director Charlie Minn told Page Six he thinks that Scott, who he called "a punk," should serve time in jail over the tragedy.
"The reason he deserves criticism and jail time, he knew there was a problem," Minn said. "He acknowledged an ambulance in the crowd. He noticed people passed out and stopped the show on three occasions. I'm not saying he knew people were dead, but he knew there was a problem. An ambulance is not an ice cream truck."
Minn also added, "In my opinion, he is a criminal. Ten people died. How do we get around that?"
UPDATED 4/29, 10:22 a.m. ET: A spokesperson for Travis Scott released a statement criticizing Charlie Minn's documentary Concert Crush: The Travis Scott Festival Tragedy. The statement slams the doc as being a "farce" and "propaganda piece" that was created with the aim "of making money and swaying future juries and public opinion."
You can read the statement in full below.
"This propaganda piece is a farce financed by and containing content from members of the plaintiff's legal teams, who, weeks after a tragedy, sought to exploit and benefit financially from it, with the clear goals of making money and swaying future juries and public opinion – just as the plaintiff's legal teams have egregiously and cynically accused Mr. Scott of doing. It's a clear-cut attempt to gaslight the public, local law enforcement, and local judiciary, and I am confident that anyone with common sense can see as much. It's a profit play and a publicity stunt, with no support from the film industry, no distribution, and from a director with no respect from his field who has been termed a "trauma pornographer" in the past for previous transgressions. Finally, all assertions by the amateur director that falsely blame Mr. Scott for the heartbreaking tragedy that occurred directly contradict the findings of the credible report just released by Governor Abbott's task force and a serious team of law enforcement and public safety experts."
See original story below.
A documentary that explores the tragic events of Astroworld 2021 is set to screen in theaters on Friday. However, attorneys representing Live Nation believe the release may negatively affect their legal battles in connection to the festival.
According to the Associated Press, the film—titled Concert Crush: The Travis Scott Festival Tragedy—will premiere this weekend in 11 Texas cities, including Austin, Dallas, and Travis Scott's hometown of Houston. The 30-year-old rapper launched the annual event in 2018 near the former site of Six Flags AstroWorld. The two-day festival was canceled in 2020 due to the global pandemic, but returned to NRG Park in November 2021. However, Astroworld was cut short last year after a crowd surge near the main stage resulted in 10 deaths and countless injuries.
The Charlie Minn-directed documentary will include interviews from Astroworld concert-goers, and will explore the ways in which the tragedy may have been prevented. Minn told the Associated Press that the film isn't a "hit piece toward Travis Scott," but simply a way to share the victims' stories.
"My job is to make the most truthful, honest, sincere documentary from the victim's point of view …" Minn explained. "We need to know about these stories to prevent it from happening again."
Those affected by the Astroworld tragedy have filed hundreds of lawsuits against Scott as well as Astroworld promoter Live Nation. The defendants are accused of "gross negligence" and "reckless disregard" for concert-goers' safety. Attorneys for Live Nation have expressed objections toward the documentary's release, stating it could "taint the jury pool." Live Nation's legal team also points out that a lawyer who filed one of the suits is a co-producer of Concert Crush, which may violate the case's gag order.
"The involvement of plaintiffs' lawyers in the film, and the publicity the filmmakers and producers are trying to generate for it raise significant issues about efforts to taint the jury pool," Live Nation's attorneys, Neal Manne and Kevin Yankowsky, wrote in a letter to state District Judge Kristen Hawkins.
The lawyers have not asked the judge to take any action in regards to the film. It remains unclear if Scott has seen the documentary.
"Mr. Scott remains focused on his philanthropic work in his hometown of Houston and in lower-income communities of color across the country, both of which are longstanding efforts," his attorneys told AP.