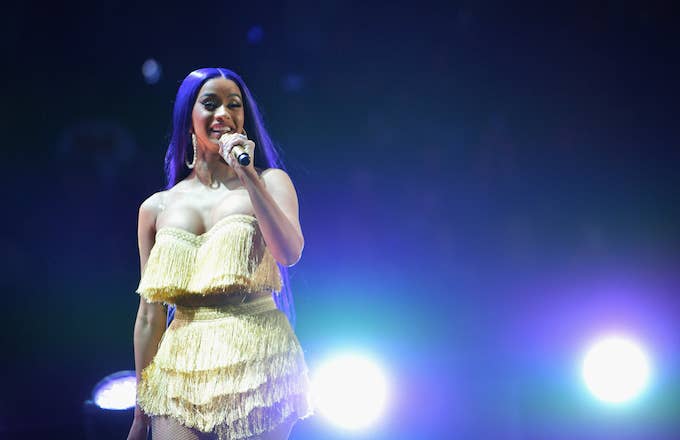 As the longest government shutdown in U.S. history continues, Cardi B is calling on her fans to take some kind of action.
The outspoken rapper returned to Instagram on Wednesday to blast the Trump adminstration and its decision to summons thousands of federal employees back to work without pay. Cardi stressed the negative impact of the partial shutdown, and insisted it was not comparable to Barack Obama's 2013 shutdown.
"Trump is now ordering [...] federal government workers to go back to work without getting paid," Cardi said in a video. "Now I don't wanna hear you mohterf**kas talkin' about, 'Oh, but Obama shut down the government for 17 days (sic).' Yeah, b**ch! For health care! So your grandma could check her blood pressure and you b***hes could go check your p***y at the gynecologist with no motherf**kin' problem."
Cardi acknowledged that there are many people out there who could care less about the shutdown, as they don't believe it directly affect their lives; but she told her fans that they need to take the situation seriously and, perhaps, take action.
"This sh*t is crazy. Like, our country is in a hell hole right now—all for a f**kin' wall," she said. "[...] I feel like we need to take some action. I dont' know what type of action, b***h, because this is not what I do. But, b***h, I'm scared."
The video was posted shortly after Cardi took to Instagram Live to criticize Trump's proposed border wall.
"You promised these f**king racist rednecks that you was gonna build the wall, but you know that was impossible," Cardi said. "But they voted for you and you promised them this shit so now you have to do it [...] Trump is like a clout chaser. He's like one of these new rap artists: They follow, they do the most for clout. And Trump wants that."