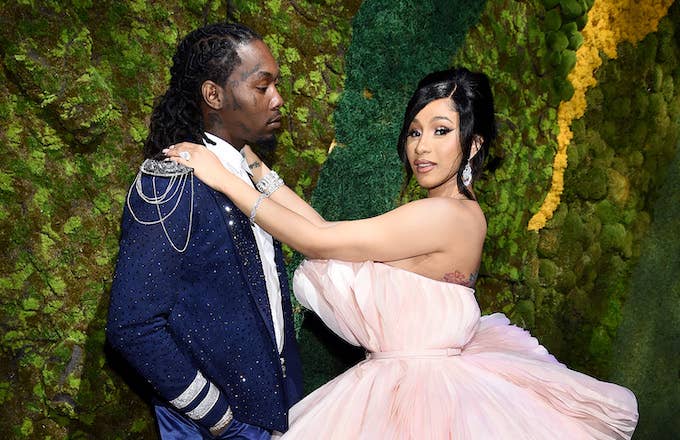 Cardi B says she isn't at all concerned about the recent rumors swirling around her husband, Offset, and 6ix9ine's girlfriend, Jade.
On Tuesday morning, Jade shared a video in which she showed a DM from Offset's verified account. The message simply read: "Miss u fr," which lead the woman to believe Offset was trying to shoot his shot behind Cardi's back.
"[Cardi] has a OPEN CRIMINAL CASE, why are you writing me," Jade captioned the clip. "You don't respect her? Theirs [sic] a lot of shit I have exposed yet, but theirs [sic] a time for that."
Jade continued, writing, "Imagine fighting cases for a n**ga and he still miss the bitch."
Cardi, who has an assault case involving Jade, took to Instagram insisting the father of her child didn't send the DM. How is she so sure? 1) She claims he isn't that dumb, and 2) His social media accounts were hacked.
"Everybody know he done some dumb shit, but come on now, n***as ain't dumb, n***as ain't crazy," she said in an Instagram video. "We've been so good. We had a sweet weekend. Life has been good ... That's why we're not entertaining it. That's why I'm not getting rowdy."
The drama between Cardi and Jade goes all the way to summer 2018, when the former was accused of ordering an assault on the latter at a Queens strip club. Authorities say Cardi's entourage showed up at the strip club and began throwing items at Jade and her sister, Baddie Gi, who both worked at the establishment. The sisters claim they received threats from Cardi after she accused Jade of sleeping with Offset—allegations Jade has repeatedly denied. 
Cardi was eventually arrested in October 2018 on two misdemeanor counts of reckless endangerment and one misdemeanor count of assault. Back in April, she was offered a plea deal with reduced charges and no jail time. Cardi, who says the incident was not premeditated, rejected the offer.