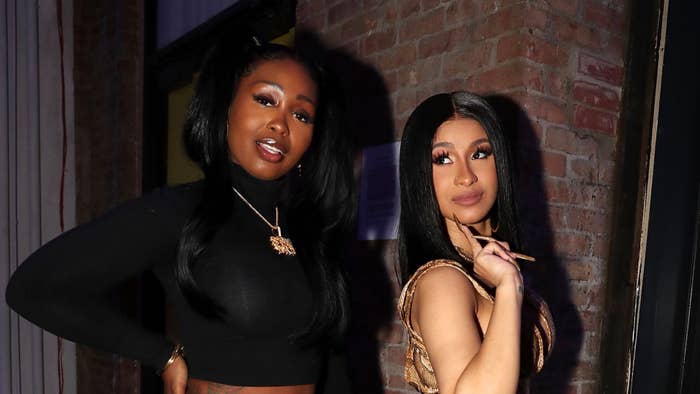 Cardi B's good friend Star Brim has been charged in a sweeping federal case against members of the 59 Brims—a subset of the Bloods street gang that operates in Brooklyn, Queens, Manhattan, and the Bronx.
The U.S. Attorney's Office for the Eastern District of New York announced charges Tuesday. Prosecutors have accused Star Brim—legal name Yonette Respass—and 10 other alleged 59 Brim members of conducting violent, illegal activity between January 2012 and December 2019. Respass is being charged with conspiracy to commit assault in-aid-of racketeering. Legal documents detail the alleged crimes committed by the defendants, including an August 2018 assault that occurred at Angels night club in Flushing, Queens.
The feds claim Star Brim orchestrated the attack against bartenders at the venue "because members of the enterprise believed the bartenders had disrespected another member of the gang." Star Brim, who was behind bars at the time, allegedly ordered her subordinates to carry out the assault, telling them, "I want hands put on them. I don't even want no talking."
In August 2018, Cardi and members of her entourage allegedly showed up to Angels strip club to confront two sisters who were working as bartenders. One of the bartenders claimed she was targeted because she was accused of having an affair with Cardi's husband, Offset. Though Cardi did not physically participate in the attack, police say her crew threw chairs and bottles at the sisters, who sustained serious injuries.
Per a DOJ memo:
Surveillance footage inside the venue captured images of the premeditated assault on the bartender. Defendants [Jeffrey] Bush and [Rodolfo] Zambrano stood at the corner of the bar next to several women. A woman standing next to defendant Bush ordered a drink from the intended target, and then lured her closer, gesturing for her to lean towards them. As defendant Bush stood by with a cellular telephone's camera trained on the intended victim, the women next to defendant Bush grabbed the bartender's hair, and, along with two other women, repeatedly beat her head while pulling her over the bar. Ultimately, the assailants threw a bottle at the bartender. Throughout, defendant Bush stood next to the women with his cellular telephone's camera filming the entire assault.
Prosecutors say Bush's footage of the incident was sent to Star Brim, who ultimately determined the attack was not vicious enough. The defendants allegedly carried out a second assault on the sisters about two weeks later at Angels.
Cardi was charged with two misdemeanor counts of reckless endangerment and one misdemeanor count of assault in connection to the attack. She pleaded not guilty to all charges in summer 2019.
The defendants are also accused of conspiring to murder members of rival gang Real Ryte, conspiracy to possess with intent to distribute controlled substances, and unlawful use of firearms for drug trafficking purposes.
"These violent street gangs simply want to make money with as little effort as possible, which is why they're venturing into unique criminal territory for gangs such as credit card fraud while maintaining their tried and true drug trafficking and murder activity," William F. Sweeney, Jr., FBI assistant director-in-charge, said in a statement Tuesday. "The work our FBI New York Metro Safe Streets Task Force is doing is extremely important to the communities where these gangs are terrorizing people. Those people don't deserve to fear bullets flying by their homes while they sleep, or seeing people killed in the streets. They deserve peaceful neighborhoods and safe places to live."
Tyshawn Atkins, James Sease, Montel Shuemake, India Lane, Louis Love, Marvin Pippins, and Rodolfo Zambrano have also been named as co-defendants. They are being charged with racketeering conspiracy, murder, murder conspiracy and fraud. Jose Battle and Brian Jackson have been charged with financial fraud.