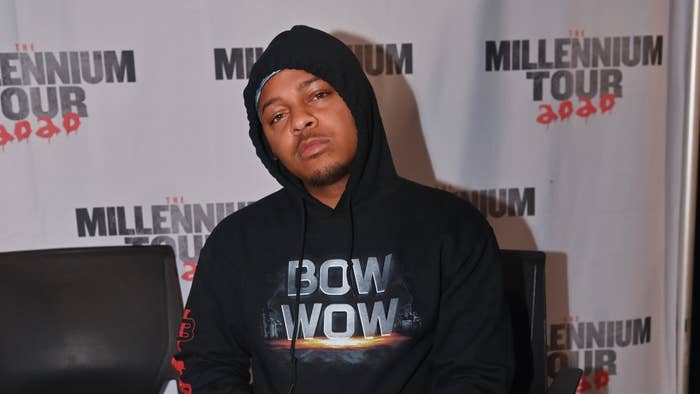 It seems Bow Wow had time on his hands today.
Earlier this week, Instagram account @critics_of_culture shared a now-viral meme titled, "Why Are These People On This List Considered Corny?" The post included photos of celebrities like Drake, Will Smith, Nick Cannon, Logic, Wayne Brady, and—you guessed it—Bow Wow.
After catching wind of the insulting list, Bow Wow hopped in the comments section to issue a lengthy defense of himself and everyone else who was featured.
"Cuz we aint beefn w n***as? Because we aint shooting at n***as?" he wrote. "This corny shit got us all the bitches tho i guess they like this corny shit. Corny but got all this money. Corny because n***as aint got pending cases or taking these dumb ass drugs that be having n****as looking dumb and talking slow. Corney because we don't promote taking that shit. Corny but alll the street n***as buying up my du rags and brushes and all my products [sic]." 
Bow Wow went on to suggest that he had no problem being called "corny" as long as he was still racking in dough and living without constant fear.
"Ill take corny and rich over having to have a million n***as w me looking over my shoulder paranoid every day wondering if the opps coming," he continued. "We can go anywhere we want your fav rapper cant. Yall n***as is lost out here. Meet us at the bank."
Bow Wow has endured his fair share of roasting over the last several years. The Ohio native, who was discovered by Snoop Dogg when he was a kid, has been mocked for a series of failed attempts at flexing. In 2016, Bow Wow shared a photo of a bundle of cash that wasn't actually his; the image was originally posted by stock trader Timothy Sykes, who didn't hesitate to call Bow Wow over the shameless stunt.
"Another musician @shadmoss is using my cash photos," Sykes wrote on Instagram. "C'mon Bow Wow, don't post in black & white, at least use my original photo in all its glory."
About a year later, the artist led fans to believe he charted a private jet when he was actually flying commercial.