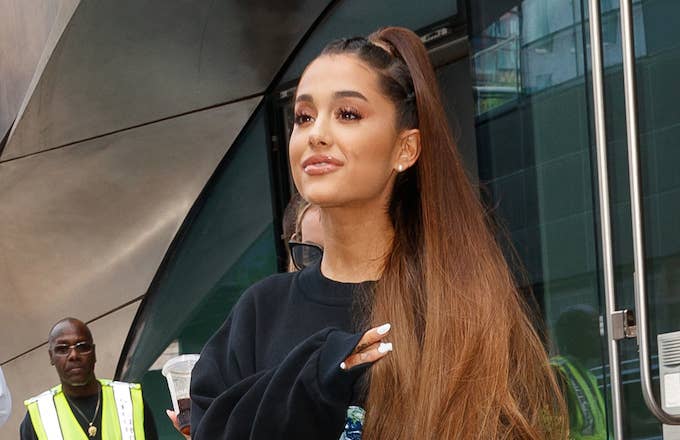 It's the day Ariana Grande fans have been waiting years for: The singer's fourth studio album, Sweetener, has finally dropped.
Grande began teasing the Dangerous Woman follow-up back in late 2016, when she revealed the project was nearly completed.
"Oh yeah, and I'm almost done with an album," she said on Snapchat. "I didn't mean to make an album, and I don't know if it's done at all, but I just have a bunch of songs that I really like. I've just been working and creating and inspired."
Though the self-proclaimed workaholic began working on the album a couple of years ago, it's safe to say it has evolved drastically since then. As many of you know, a lot has changed for Grande within the past year: The 25-year-old singer ended her relationship with Mac Miller and got engaged to comedian Pete Davidson shortly after. Grande also had to deal with post-traumatic stress following the May 2017 Manchester bombing that left 23 people dead.
Grande's struggles with anxiety and PTSD are believed to have inspired Sweetener's title, as she suggested during a May interview on The Tonight Show Starring Jimmy Fallon.
"It's kind of about bringing light to a situation or to someone's life or somebody else who brings light to your life. Sweetening the situation," she said when asked about the album's name.
Sweetener includes the previously released singles "No Tears Left to Cry," "God Is a Woman," and "The Light Is Coming" featuring Nicki Minaj. The album also features appearances by Pharrell and Missy Elliott, as well as production by Max Martin and Savan Kotecha.
You can stream the album now on Apple Music/iTunes and Spotify.
In celebration of the release, Grande has dropped the full Sweetener merch collection online. Fans can cop pieces from the collection over at Grande's official website.