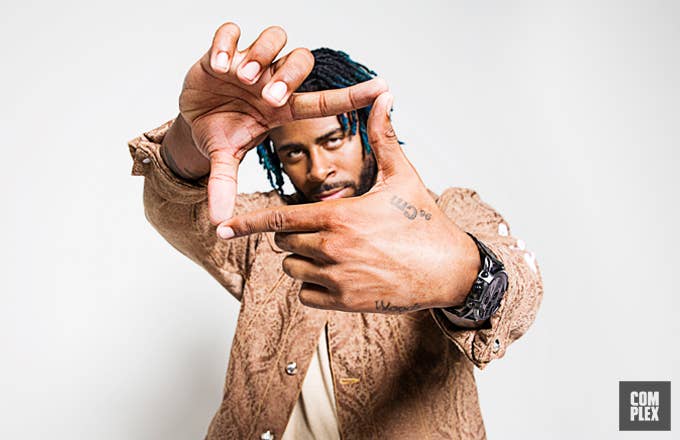 At 6'5, rapper Sage the Gemini stands in the center of a Downtown Los Angeles studio, lumbering over a crew of creatives patiently working to craft the right image for the day's shoot. Eventually, he winds up in a director's chair, now eye to eye with the rest of the team.
To his right, a hairstylist primping his aqua-dyed dreadlocks. Just beyond his shoulder, a wardrobe stylist adjusting the collar on a plush, black corduroy button up. And to his left, he has me, fiddling with the Diesel touchscreen smartwatch on his wrist, helping him decide which customizable dial would pair best with the look. A gold design catches his eye, but he eventually settles on a more titanium looking face.
In his decision making, that attention to detail is the one constant throughout the day. He knows what he wants and he requires everyone else on set to be equally informed. Affable in most other moments, he's firm in his vision, scoffing at the idea of particular poses and refusing to wear an artsy, tapered pair of nylon trousers. He argues they'd look good on a shorter man, but on a guy his height, showing so much ankle would give the impression that he merely bought the wrong size pants. It's odd logic, but it's clear and direct.
That resolute energy he injects into the room is deflated each time a new person enters, and he reverts back to a recurring practical joke: Turning his head, throwing his voice, and barking like a dog before joking "where'd that dog come from?!" 
Evident in that contrast is the balancing act between convicted artist and easy-going goofball that's underscored the entirety of Sage's career. After thumping against a glass ceiling each time he attempted to deliver a bit of substance in his music, the songs that finally landed him his deal at Republic Records, the infectious club bangers "Red Nose" and "Gas Pedal," were originally recorded as jokes.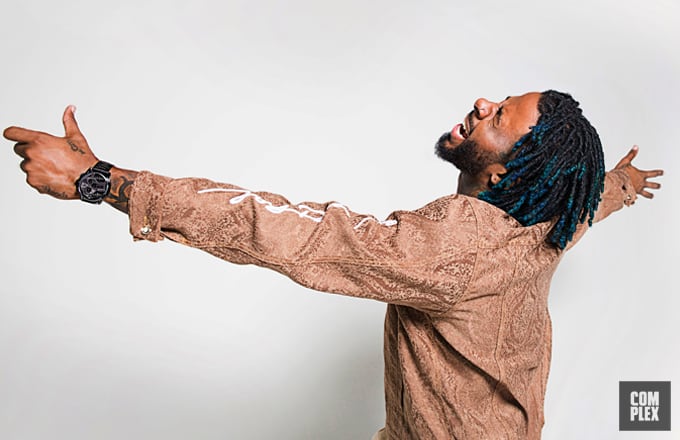 "I was a lyrical person," he tells me. "But some of the stuff I would say would fly over people's heads. So then I was like 'okay I'm not gonna get famous, let me just see what's on the radio.' And it was a whole bunch of dumb sh*t. So I was just like…'let me put out some dumb sh*t.'"
He risked his credibility, and it worked. Yet while he's comfortable with his sound and his position in rap, a part of him visibly misses the lyricist he once was, as the switch has manifested in a sharp self-consciousness.
Pensive, he explains "I get the whole 'Sage the Gemini can't rap' [thing] all the time. But those are people who [don't] go out and look for my music."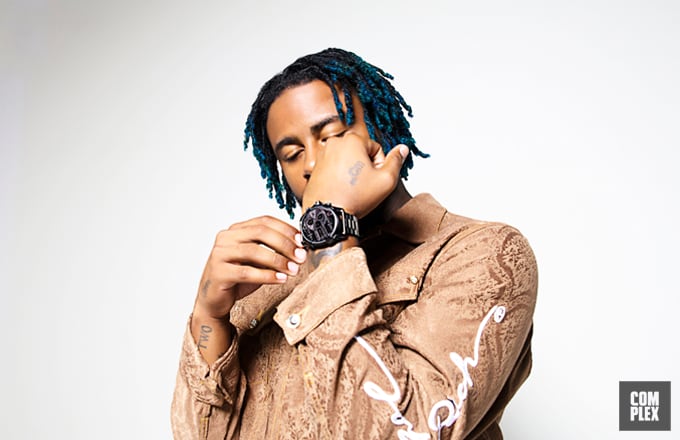 In Sage's estimation, a percentage of the public writes him off as a subpar rapper, while the rest lament his regression, knowing what he's truly capable of. When talking about his forthcoming album, the release date of which is still unknown, he does note that the music he's currently working on is closer to what he's wanted to make all along. But again, the notion of risk arises.
Cognizant of the power of popularity, he notes "it's a risk because the listeners—the fans—literally are the ones who run music; run who's famous or not." Even though he's confident in the way he's course-corrected, he's not certain the public will come along for the ride.
The 26 year old in front of me seems to possess a deep knowledge of self as well as the space he occupies. Almost as if he felt the room grow tired of his barking dog bit, he contextualizes his behavior. "What you see is what you get," he explains. "Like [today]. I just did a photoshoot, and I was acting like me. I might get on somebody's nerves because they think I'm childish, but f**k, I'm living, right? We all need to have fun, you know what I'm saying? I'm six foot five having the most fun."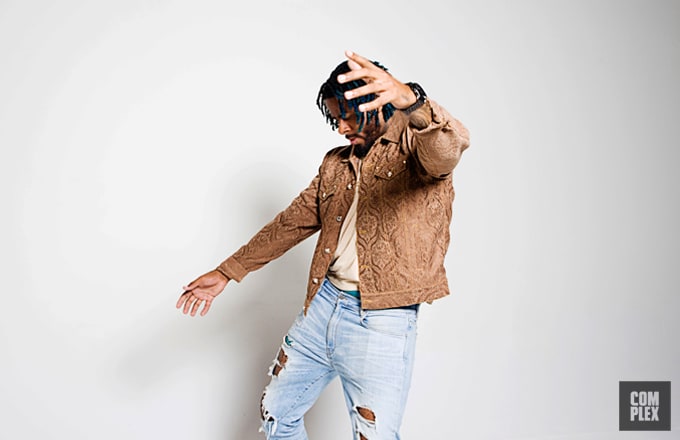 The duality of Sage the Gemini reads more like a dichotomy. He seems to want people to take him more seriously than he's willing to take himself—a potentially frustrating set of circumstances, if it weren't for the support of his peers.
"I've had big [artists] come to my studio session and be like 'damn, bro, I didn't know you knew how to rap...that's tight." He even counts Grammy nominated singer-songwriter Robin Thicke among his supporters. At the height of Thicke's "Blurred Lines" success and the arrival of Sage's debut LP Remember Me, the two crossed paths at a 1 Oak album release party in the rapper's honor—with Thicke more enthused to be there than the man of the hour.
Not one for partying (surprisingly, given the nature of his music), Sage spent most of the night alone slouched in the back of the club; perhaps unimpressed with the room, or underwhelmed by his own project. No matter the reason, the shadows of 1 Oak is where he would remain for some time, until Thicke spontaneously grabbed the mic from the DJ booth to acknowledge the guest of honor.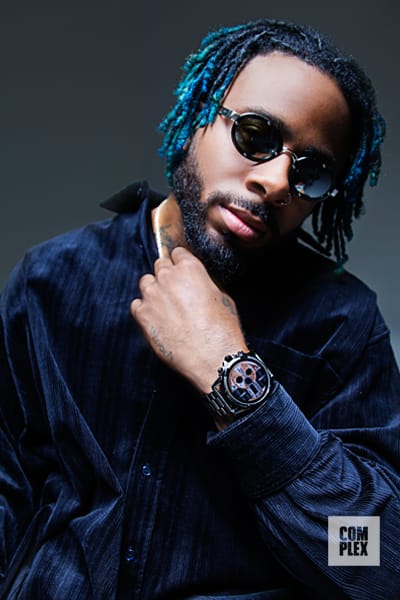 "Robin was hella drunk! He was like 'yeah, this is my f*****g guy, Sage the Gemini. His album is coming out!'" With a grin on his face as wide as the one he must have had in that moment, the rapper confesses "I'm a big fan of Robin Thicke. That was my first time meeting him. I was starstruck. Between him saying my name and [even] being there [in the first place]...I was like 'woah.'"
The background of his own album release party is a more natural habitat for Sage than one may think. Despite his jokes and his hair and his height, the whole of Sage's persona is adverse to spectacle. Merely masking himself as an extrovert, a closer study of his sensibilities reveals him as a minimalist. Atypical compared to the average showman, the rapper began and ended the day in a plain white tee, a thin gold chain so quaint it could have been a family heirloom, and a smartwatch he admires for its quiet splendor.
"When you got money, you don't need to show it," he says. "A lot of people who are very wealthy don't care about diamonds. They like what's unique, and the [Diesel Full Guard 2.5] is unique...it doesn't need diamonds. But it does have an image to it that makes the person wearing it feel like they're somebody special." Certain in his assessment one moment, he shrinks a little the next, noticeably embarrassed as I suggest that special somebody sounds like him.
On display in that exchange is what separates Sage the Gemini from his contemporaries. He possesses a self-awareness that sometimes borders on self-doubt. But the details that accent his life serve as subtle affirmations—like an encouraging encounter with a popstar; or a Diesel watch with no diamonds, merely a blank screen that only shines we he needs it to.