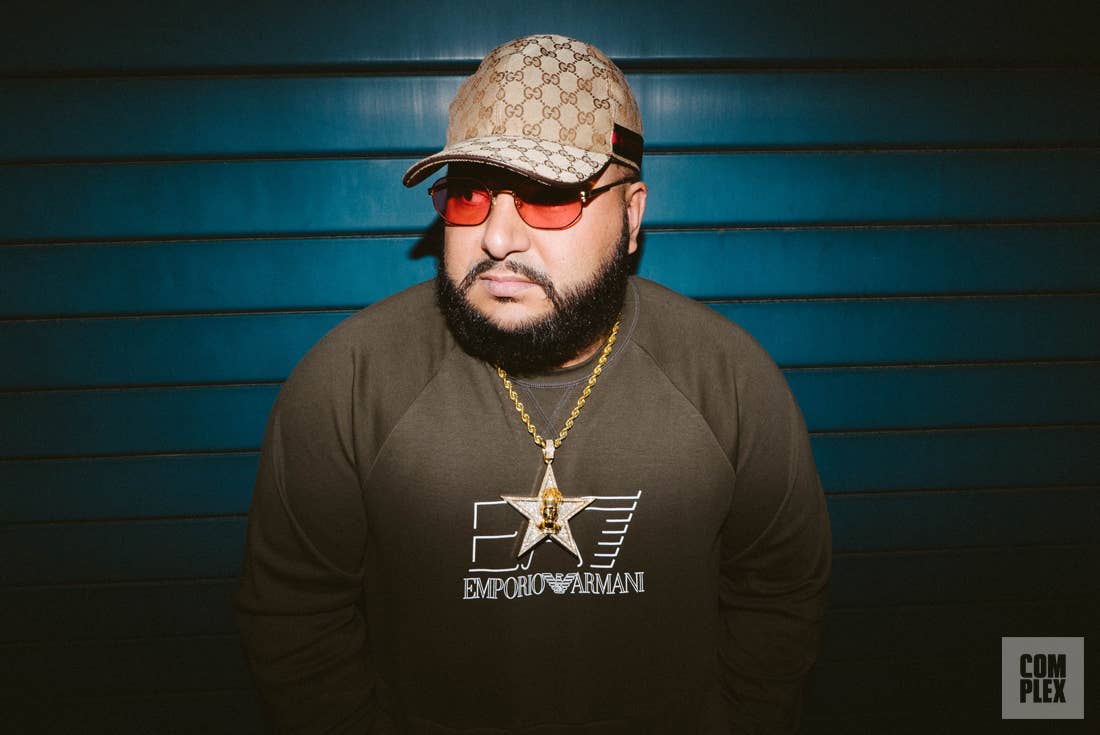 Within 24 hours of hearing his first song by the Weeknd, in early 2011, Amir "Cash" Esmailian stuffed whatever he could of his Miami apartment into a single suitcase and moved to Toronto. The goal was to get nearer to the guy he says he knew "would change the sound, change the world of music." His plans? He'd figure them out when he got to Canada. His lease? The landlady's problem. His sneaker collection? A small price to pay. Well, actually, that part was heartbreaking. "There were so many Jordans there I wish I could..." Cash, now 33, trails off, shaking his head. "I left everything, bro."
Today, the Iran-born, Ottawa-raised Los Angeles resident co-manages the Weeknd. "There's nothing like him," Cash gushes about the man he knows as Abel Tesfaye. He's also steering the Weeknd's business/cultural empire, XO, which shape-shifts from record label to fashion mark to clique, all while remaining (like Jay Z's Roc and Drake's OVO) a rallying point for fans eager to broadcast their dedication via hand signs, tattoos, and, presumably, the margins of their class notes. Newcomers think XO signifies hugs and kisses. Old heads know it stands for ecstasy and Oxycodone. But to Cash, XO is very simply "family." As for his official title in the business, he's not the LinkedIn type.
"We never operate off titles. I live, breathe, sleep, eat, shit XO," says Cash, as if that suffices as a job description. But it kind of does. When he got to Toronto and befriended Tesfaye, he was at various times his personal assistant, road manager, security guard, fitness trainer, and chauffeur. In 2017, he's a driving force behind the Weeknd's world tour, the release of the debut mixtape of XO singer-producer Nav, the U.S. tour of rapper Belly (cosigned to Roc Nation), a menswear collection with H&M, and an official XO sneaker coming via Puma. Plus he keeps a home studio frequented by the likes of French Montana, Metro Boomin, and Travis Scott. "There's no job for any [XO] guys too big or small," says Cash proudly. "If something spills on the ground, no one's like, 'I'm not gonna pick it up 'cause it's not my job.' Whoever's closest gets it. That's the mentality with us."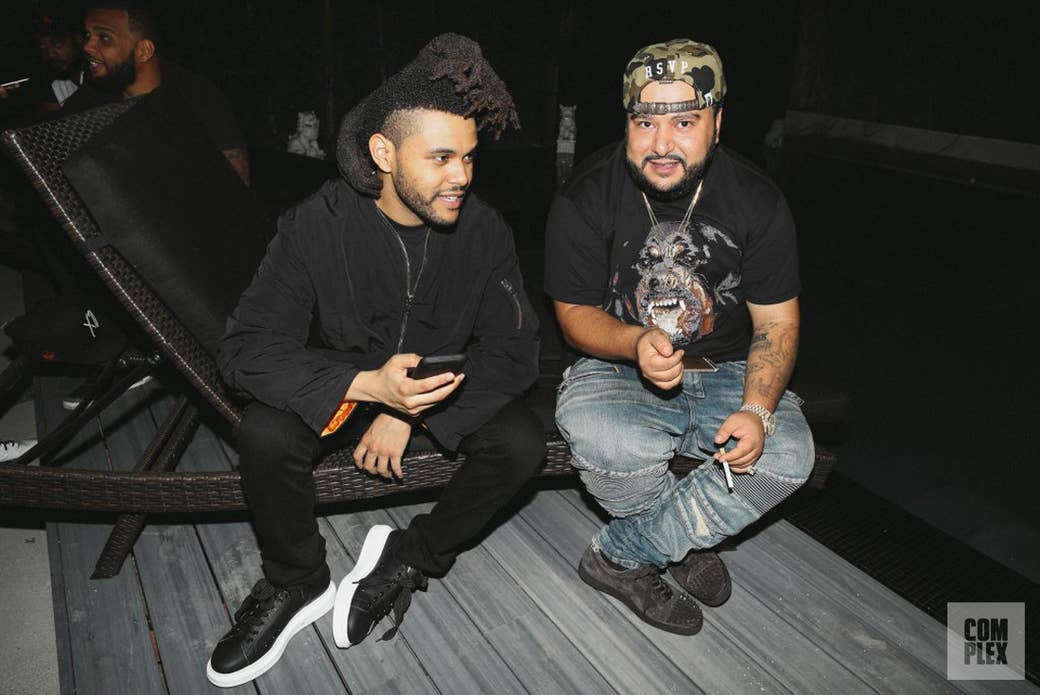 Still, when I arrive at Cash's house in the affluent Encino neighborhood of L.A.'s San Fernando Valley, it falls on one humble family member, Raph Mesquita (who has an engineering credit on the Weeknd's Starboy), to stall me while a maid service wraps up inside. The estate's façade is the opposite of XO's shadowy aesthetic: stately and clean, looking like a sprawling Tudor fused to a tract home scrubbed of all color that isn't white or near-white. It's flanked by two gleaming Rolls-Royce Ghosts with Ottawa plates—one black, one white—facing an enormous Buddha statue encircled by a concrete drive. Everything is perfectly symmetrical, and I can only guess that any dirt (literal or figurative) is now leaving in trash bags with the cleaning crew walking out of the front door.
That's where Cash meets me in a black Weeknd tee, black joggers, black socks, and black slip-ons, with a silver No Limit-style necklace hanging the words "Low Life 4 Life" over his shirt, and a red Bic squeezed against the pack of Canadian cigarettes in his hand. His hair and beard are well cropped, but his eyes are bloodshot and his voice is raspy, like he was up all night. He was "vibing out," he says, to new music till 7 a.m. with Scott and NAV, who collaborated on the former's "Beibs in the Trap," a medievally dark song about cocaine and partying. (It was Cash's idea to lose the "Brian" in Scott's Birds in the Trap Sing McKnight album title, to make it sound Shakespearean.)
It's all-white inside too, and meticulously decorated. Highlights include: the two-foot-high green catlike creatures associated with Kiss Land–era Weeknd standing sentry in the foyer; the glass-covered wall of mounted golden Armand de Brignac "Ace of Spades" champagne bottles in the living room; various Weeknd and Belly-related framed record plaques in the halls; and an entire Encyclopædia Britannica set on a high bookshelf reachable only by a rolling white library ladder.
But Cash heads downstairs instead, toward a dim room with an eerie glow. I'm convinced he's taking me to the hidden all-hours club at the center of the XO universe, a dank clothing-optional drug den where Tesfaye re-ups his bleak pop mastery by making sacrifices to some pagan idol with hooves and boobs. "This is my pride and joy," says Cash as we turn a corner and walk into... an arcade. NBA Jam. Street Fighter II. Jurassic Park III. Punch-Out!!Double Dragon. Cruis'n USA.
"All these games I grew up with, doing a paper route to get a little money so I could play them," he explains. "It's the greatest feeling walking into my basement. It's like, 'Fuck, I think I made it!'"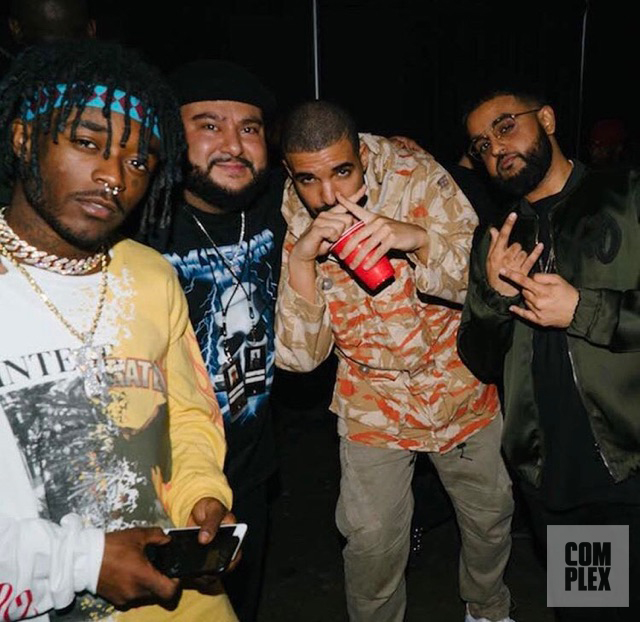 Tehran wasn't a great place to be in 1984. The bloody Iran-Iraq War was in full swing. Saddam Hussein was targeting civilians with chemical weapons. Children were conscripted to fight back. Both sides were launching missiles at each other's most populous cities. That's when and where Cash was born, the second son of a loving mother and a father who he says was "running all the national banks in Tehran." By 1988, the small family had escaped, leaving behind a a spacious home and many close relatives to move to a project apartment in Ottawa, where Cash's dad became a taxi driver. Cash saw enough before leaving Iran—like "a house I played at a week before not there no more, just, in the ground," he recalls—to understand the opportunity that came with his family's ostensible humbling.
He says growing up in a war zone made him fearless: "There's no situation you could put me in now that's gonna be worse." Plus, he was old enough to grasp his father's sacrifice, "so me and my brother could be in a space where we can make our own decisions, be what we want to be."
There are plenty of places to conduct an interview in a $4.5 million home on 1.5 acres of land, but Cash and I are sitting in the one room that's bursting with color. The walls are a striking harissa-red, same as the Persian rug festooned with blue and green flowers, the gold-spangled sofa cushions, and many of the glasses in the tea set resting on an ornately carved and painted table (another sports a chest, a weed grinder, and promotional Belly wrapping papers). There's a green-and-gold hookah by the glass doors, which open to the yard, pool, and basketball court.
"This is my dojo, my connection with my roots," says Cash as he pulls his legs under him on the sofa and lights one of eight cigarettes he'll smoke in 80 minutes. He points to a portrait leaning in the corner—a great-great-great-great-great grandfather he says was "king of a state" in Iran. Next to that is a 200-year-old letter in artful script from a shah thanking his great-grandfather, an architect, for working on a palace. Cash credits his brother, a Hyundai dealership manager with two kids, for passing on the family name, but he's also carrying forth a legacy: clout and wealth.
As Cash puts it, he's always known how to "turn one into two." He got his nickname as a tween, from the same pal and future XO member, Hawk Marley, who would turn him onto to the Weeknd's music. An avowed sneakerhead and hat hoarder, Cash's first hustle came to him after he took a Greyhound to Harlem, unbeknownst to his folks, so he could buy the full range of alternate-color Yankees caps he'd seen Puff Daddy wear. He befriended a Persian apparel merchant there, and pretty soon Cash was personally importing streetwear ('90s picture tees were his specialty) to Ottawa, where he could sell it for a sizable markup. That's how he wound up with a clothing store, at 22, in Ottawa.
But music was always around. He'd known Belly, born Ahmad Balshe, since he was 12—they were neighbors. By age 13, the two of them would while away hours at local recording studios (some legit, most ad hoc). It was the Weeknd's other current manager, Tony W. Sal, who gave them both their first break in 2002, signing Belly to his Capital Prophets label and hiring Cash as the head of street promotion. To this day Sal, 37, is the more industry-oriented of XO's chieftains. He leveraged his position with Tesfaye to join the Maverick management consortium alongside reps for Madonna, Nicki Minaj, Miley Cyrus, and U2 last year. And in a 2015 Billboard article in which he and Cash were asked to name their mentors, Sal cited Republic Records power players Monte and Avery Lipman, while Cash shouted out his dad for teaching him to follow his instincts no matter what, take pride in his work, and, he adds now, "never be shady."
"Sal and I are just so completely different but that's what makes us great," Cash says now. "We just kind of complete each other."
Cash's path from there was random and, at times, thrilling. At 19, he was a traveling confidante to Juelz Santana during peak Dipset (Cash's prize piece of headwear is a Cam'ron-designed silk-encased New Era cap Juelz gave him). He began managing Belly, which took him to Florida circa 2007 in hopes of cracking the club scene and scoring songwriting gigs for his client. "With Cash Money and everyone else over there, Miami was the hub," says Cash. "I was chasing the dream." Of course, he wound up catching a different one that ported him back up to Canada.
"I don't want to spoil anything, but our relationship with OVO is great."
The smell of pot wafts in through the glass doors. Nav crosses our view on his way to the pool house, a cozy, amenities-riddled white-on-white hut that's about the size of my apartment (which, painfully, is four blocks from here). Cash says his "guys" like to work there because it harks back to the bedrooms and basements they first recorded in, "in the trap." He calls it Birdhouse Studio because—again, painfully—it reminds him "of a little birdhouse," he says. "It's like, if we don't keep working hard, we're gonna end up right back over there." He chuckles, while I cry inside.
When I ask him how he discovered Nav (born Navraj Goraya), another Toronto talent, Cash just says, "I'm always in the loop with everything going on in that city. The local guys can always get a hold of me. I'm there day one to give them advice and opportunities without asking for anything." The real answer is that Cash heard Nav's SoundCloud breakthrough, "Take Me Simple," called him up ("Obviously he knew who I was," Cash adds), then booked Nav a flight to L.A., where "he fell in perfectly." In February, XO and Republic co-released Nav's self-titled mixtape, which notched a respectable No. 24 on the Billboard 200 (No. 4 on Canadian Albums) fueled by single "Some Way," wherein featured guest the Weeknd, who's dating Selena Gomez, seems to take shots at his famous girlfriend's ex-boyfriend Justin Bieber (Tesfaye is also cosigned to XO and Republic). Nav is now wrapping an album with Metro Boomin, and performed his first show ever at Coachella in April.
All of that speaks to the power of the XO cosign — which is, ultimately, the power of the Weeknd. Nav is a good producer with a reliable knack for mixing goopy New Age synths with icily clacking trap percussion, but as a vocalist he's been criticized by many for being lazy and juvenile, which extends from his use of the N-word to overly Auto-Tuned punchlines like, "I think my nuts look better on her face." The Weeknd, by contrast, is a deus ex machina, the answer to a dozen lingering questions about how R&B and rap interface with pop culture at large (EDM, Hollywood, style, celebrity, drugs, sex, black identity, Michael Jackson's sonic legacy). Cash has to know all this, that the source of XO's strength is the Weeknd himself. Maybe that's why he reportedly keeps Tesfaye's old, signature Basquiat-ish dreadlock in a safe.
"I do have the hair," Cash confirms. "It's stored well, secure, with 300 armed guards and its own condo in Toronto." That last bit was a joke—probably. But if you can overlook the creepiness of the situation, it's kinda sweet. Cash is clearly a sincere, sentimental dude. His eye-contact is strong, he divides his social circle into "big brothers" and "little brothers," and then there's the wrestling memorabilia distributed throughout his home. The largest concentration is in his office: a dozen shining championship belts, each on its own shelf bearing letters like WWE, WCW, and NXT alongside images of eagles, globes, and eagles on top of globes. But his personal connection to wrestling isn't typical for a wealthy, well-connected fan. "I learned how to speak English watching WWE," he explains. "That's why I'm so loyal to it. Sometimes, if I can't sleep, I'll put on the WWE network and watch reruns because it puts me in a good place. It reminds me of watching it with my dad on the bed."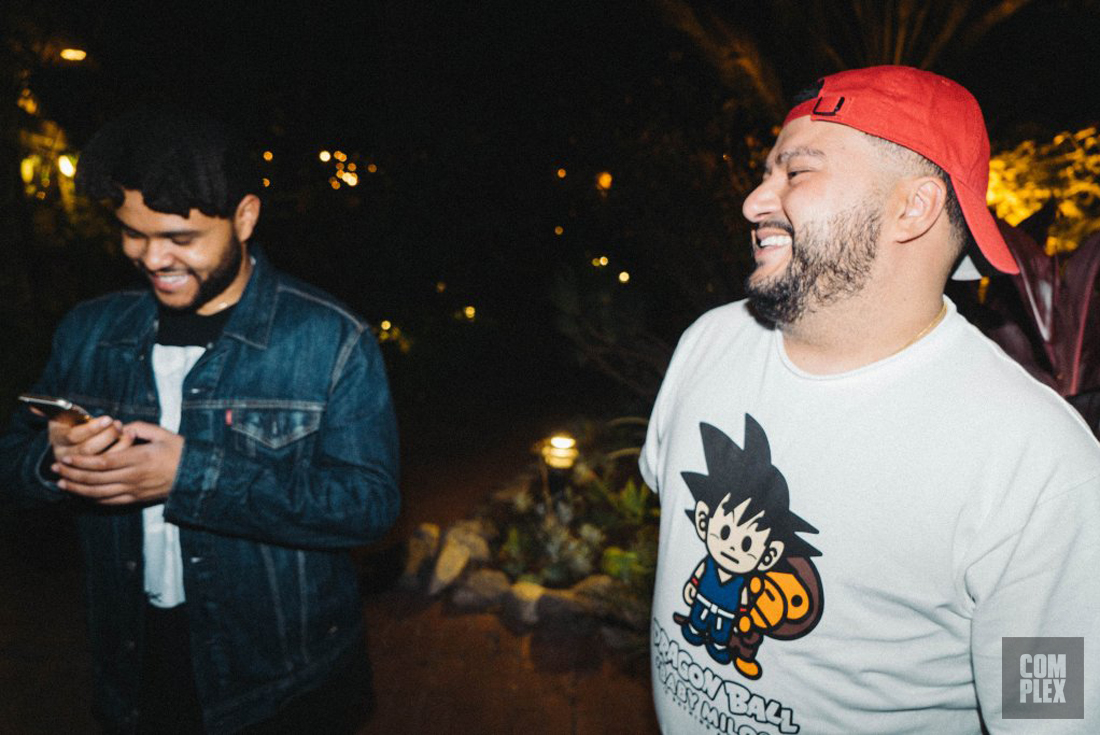 Cash's favorite moment in recent XO history was seeing his "little brother" Tesfaye take home two Grammys in 2016 for his second album, Beauty Behind the Madness. "Because I know how hard he works for it," says Cash. But nothing will ever top the summer he made that spontaneous 1,500-mile move due north, which he calls "one of the best times of our lives." Toronto was an excellent place to be in 2011. Cash was couch-surfing, but "we weren't sleeping," he says. "We were running around everywhere." The debut Weeknd mixtape, House of Balloons, was out, stirring up myths about its anonymous, debauched author who sampled the gothic likes of Cocteau Twins and sang of endless nights full of pills and powders and joyless fucking. Tesfaye hadn't yet revealed his name or face—Cash recalls waiting in line with him at a Starbucks while customers ahead of them gabbed about the Weeknd—but the nightlife scene knew him. "Abel was a rock star," says Cash. "People had such respect for him, even club photographers stopped trying to take pictures of him" to sustain the mystery.
Drake was blogging about the Weeknd on his website and tapping Tesfaye for Take Care (the singer cowrote five songs on Drake's quadruple-platinum LP). There were rumors of an OVOXO supercrew, which Cash still entertains: "I don't want to spoil anything, but our relationship with OVO is great." The whole XO fam was shining: palm-greasers like Cash and Sal; visual specialists like creative director La Mar Taylor, videographer Hyghly Alleyne, and album art guru DropxLife; producers like Illangelo and DannyBoyStyles; and guys with ill-defined roles and names like Dooly, Henny, and Stix.
It makes sense that Cash's best memories hail from that time. For all of the confusion over who did what (a trend that continues to this day), XO was a visceral crew riding its own wave through a physical city. Now it's an amorphous brand scattered across a continent, with global aims. Ask Cash about living in L.A. and he'll tell you he's got nothing against it, but if he could he'd be back in Toronto. Toronto was concrete. L.A., like so many of the things in Cash's home, is symbolism. On my way out I notice that one of the garages is open, revealing a spotless black Lamborghini Aventador Roadster, a supercar worth half a million. Cash looks a little sheepish. "To be honest, I've probably driven it two times," he admits. "It's one of those things you get. It's like a trophy."