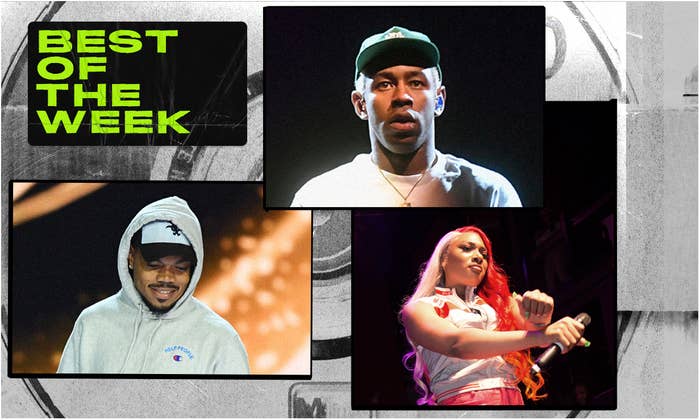 Sometimes in life, you have to look on the bright side. For example, this week, we were reminded that reproductive healthcare is not a right and the immigrants who built (and continue to build) this country don't deserve compassion in the eyes of our government. But, on the bright side, there's a shit ton of new music to soundtrack our impending doom; there's something for every mood.
In all seriousness, though, what's going on in this country is outrageous and unjust and should be treated as such. So after you queue up Tyler, The Creator's IGOR or Megan Thee Stallion's Fever, head over to the Yellowhammer Fund website to donate to accessible abortion access in Alabama, and then log on to Facebook and tell your Aunt Tammy once and for all that she needs to get with the winning (read: basic human rights) team.
These are the best new songs this week.
Tyler, The Creator, "GONE, GONE/THANK YOU"
Few artists have offered a more fascinating journey of growth and self-actualization in recent years than Tyler, The Creator. I won't rehash the 180 he's done from his Odd Future days of (incredibly well-produced) shock rap to now, but I'll say this: Growing up with Tyler's music has been a true joy, and sticking with him only continues to be a rewarding choice.
Like Tyler said, IGOR is not a rap album. It's a collection of dazzling synths, keys, and drums. Flower Boy saw Tyler truly come into his own as a producer, but his own raps and those of his collaborators remained at the center of the music. On IGOR, the production is the album, even on tracks like "GONE, GONE/THANK YOU" which feature traditional "rap verses." In keeping with his eight-year tradition of splitting the tenth track on the album into two parts, Tyler offers us a dynamic reversal of the grief stages. "GONE, GONE" is chipperly apathetic, at peace with the departure of a flame; "THANK YOU" is more melancholy, expressing a somber appreciation for said flame and the post-breakup fear of vulnerability ("Thank you for the love, thank you for the joy/But I will never want to fall in love again"). Featuring additional vocals from Mild High Club and King Krule, "GONE, GONE/THANK YOU" is heartbreaking and lush, and it reminds us what's so special about Mr. Okonma. —Carolyn Bernucca
Megan Thee Stallion f/ DaBaby, "Cash Shit"
A collaboration between two of rap's most exciting up-and-comers? Turn that up! "Cash Shit," a first-half cut from Megan Thee Stallion's new project, Fever, features a verse from North Carolina's DaBaby; a trunk, window, and steering wheel-rattling bassline; and a ridiculously quotable intro: "Yeah, I'm in my bag, but I'm in his too, and that's why every time you see me, I got some new shoes!" Megan's bravado is on full display here, as she spits effortlessly about wearing the pants ("Yeah, that's my dawg, he gon' sit down and listen/Call him a trick and he don't get offended"), and DaBaby devotes his infectious energy to unabashed horniness and bad bitch appreciation ("I like when they pretty and ghetto/Type of bitch that don't even say hello"). It is, to quote Megan herself, real hot girl shit (and yes, that term is gender-neutral). —Carolyn Bernucca
DJ Khaled f/ Nipsey Hussle & John Legend, "Higher"
On Wednesday, May 15, DJ Khaled dropped a note on social media about his upcoming collaboration with the late Nipsey Hussle, "Higher," from his new album, Father of Asahd. Proceeds from the collab, which also features John Legend, will go to Nipsey's children, Kross and Emani.
Less than two months after his death, it remains difficult to hear Nipsey's voice, especially when that voice is waxing poetic about his past, his children, and the power of God's grace. The gospel choir vocals on "Higher," along with John Legend's angelic voice round out the track, enveloping Nipsey's cold, raspy flow in a special kind of warmth. What was supposed to be the lead single for Father of Asahd has become something much more significant: a final snippet of Nipsey's vision for the future, one we can carry with us as we continue the marathon. —Carolyn Bernucca
Carly Rae Jepsen, "Want You In My Room"
If you still have yet to join the church of Carly Rae Jepsen, I invite you to ask yourself why you love to suffer. The Canadian queen's fourth studio album, Dedicated, is out today and it's heavy on disco influence, making it the perfect pop release for this period of increased daylight hours. Produced by Jack Antonoff, "Want You In My Room" is a sweet and sensual track about, well, do I really need to say it? Jepsen's breathy vocals amp up the sexiness, while Antonoff's guitars and synths keep the track grounded. It's a crushing anthem for the ages, and for this summer specifically. —Carolyn Bernucca
Chance The Rapper f/ TisaKorean, "GRoCERIES"
Lil Chano's first official release of 2019, "GRoCERIES," is a little upbeat, a little horny, and thankfully (but also unfortunately?) not a revival of Jhené Aiko's booty-eating simile circa 2014. Over flute-y production from MurdaBeatz, Chance and TisaKorean trade cheeky bars about getting laid ("Take me to the box, Bandicoot, let me crash," for example). In an interview on Beats1 Radio, Chance explained that everything from his forthcoming album was inspired by the dancing he and his loved ones did on his wedding day. "GRoCERIES" is no major lyrical feat, but it is a fun start to what is hopefully the Chance 4 rollout. —Carolyn Bernucca
Injury Reserve, "Gravy n' Biscuits"
Ritchie with a T, Stepa J. Groggs, and Parker Corey, otherwise known as Injury Reserve, continue to carve out their own niche in the alternative hip-hop space. Their self-titled debut album sees the trio continuing to experiment with a variety of sounds, from the rowdy and bass-heavy to the mellow and tropical. On "Gravy n' Biscuits," they meet somewhere in the middle; it's laid-back and smooth, but still bass-centric, and punctuated by a gentle piano. As the title would suggest, both Ritchie and Stepa are feeling content and at peace (if not a little braggadocious) about how far they've come. The highlights come in two equally hilarious disses: Stepa's "N***a, you 'bout to blow your knee out at LA Fitness" and Ritchie's "I could tell you just took the Uber sticker off the window." Kids say the darndest things. —Carolyn Bernucca
Lana Del Rey, "Doin' Time"
Lana makes the dark and surf-y "Doin' Time," originally sung by Sublime, slightly spookier with her signature brooding vocals, adding an extra haunting layer to the tale of Bradley Nowell's unfaithful lover. You probably didn't ask for anyone to cover Sublime in 2019, but if it had to be done, we're glad it was Lana. —Carolyn Bernucca
Halsey, "Nightmare"
First, she shouts out feminist rock band Bikini Kill on Twitter. Then, she plays her first Webster Hall show in a Pearl Jam Choices tee. Now, she's got punk legend Debbie Harry in her new visuals. Halsey has fully committed to the pop-rock sound, which she caps off on "Nightmare." If your exposure to her is from that Ch***smokers feature, then clutch your pearls and be taken aback by this record. But honestly, what did you expect a single that followed a Yungblud and Travis Barker collab to sound like? In a time when everyone everywhere should be furious with women's rights being stripped away in our country, Halsey offers up a fiery rage anthem with some aptly-timed lines: "I'm tired and angry, but somebody should be." —Waiss Aramesh