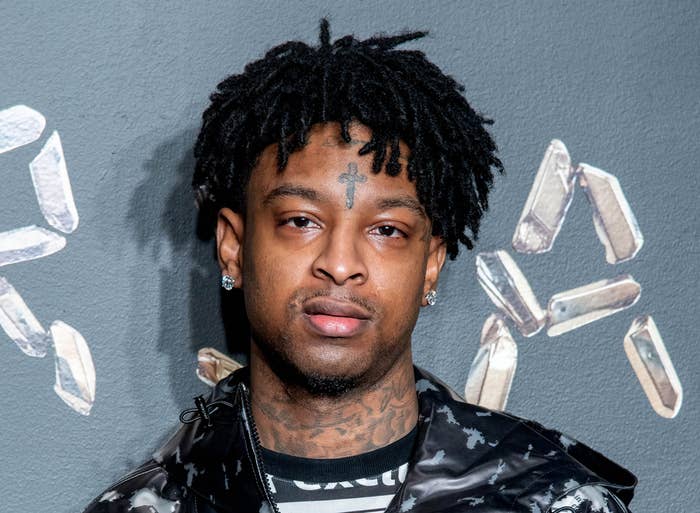 On Wednesday, Feb. 13, 21 Savage was released from Immigration and Customs Enforcement (ICE) custody. With the help of a powerhouse legal team, the rapper received an expedited bond hearing, where he was granted a $100,000 bond. After ten days in ICE custody, 21 has since reunited with his mother, Heather, and returned to Atlanta via private jet. The case received national attention, including a petition calling for his release from Black Lives Matter, and shout outs from Metro Boomin and Gunna on The Tonight Show with Jimmy Fallon, and Ludwig Goransson at the Grammys.
Alex Spiro, an attorney who was enlisted by JAY-Z and Roc Nation to help with 21's case, reports that the father of three is in good spirits. Still, he says, "You have to wonder whether he would had such issues if he had been a white kid in the suburbs." Though 21 has benefited from his stardom and the media pressure on ICE, his case is not unlike the thousands of other immigration cases currently pending in the United States, and he certainly faced his fair share of hurdles.
We spoke with Spiro about the process leading up to 21's release, and what the future holds for both his deportation case and his career.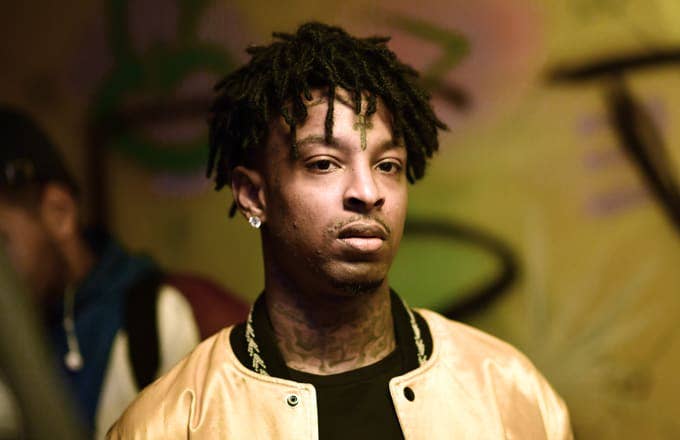 What can you tell us about the process of getting 21 released on bond?
There was a lot that went on behind the scenes and there were formal legal motions and legal maneuvers that we did. A lot of the details are under seal because they involve personal matters. But we came up with an effective strategy, he had a great team around him in Atlanta, and thankfully so.
Would you consider things to be going well for 21. Was bond expected here, and in this amount of time?
We were able to get him an expedited hearing, and we won the hearing. You can't complain about that; I'm glad he's home. With that all being said, you have to wonder whether he would have had such issues if he had been a white kid in the suburbs. If he was a white kid at NYU in New York overstaying his visa, whether he would have been treated this way. It's hard to tell whether he's lucky or unlucky; he's had a blessed life in many ways, and this was an unfortunate turn of events. He handled it and he survived this ordeal and I think it will make him stronger.
How is 21 doing right now?
He's in good spirits. He's very appreciative of everybody supporting him. He's with his friends and family right now. It takes some time to get over things like this; it's a traumatic experience. But he's in good spirits right now and I think he's relieved.
You have to wonder whether he would had such issues if he had been a white kid in the suburbs.
What are the chances he still faces of being deported? Being released on bond obviously doesn't mean this is over.
We have a lot of things in place, and we're optimistic that that won't happen.

What are the next steps with 21's case?
It's legal strategy, formalities, and process. But I'm confident he's going to remain in the United States and continue to be a productive member of society, and make music and make people happy.
Is $100,000 a normal bond amount for something like this? That seems very high.
There isn't a normal bond amount per se. So $100,000 for somebody of affluence is not a tremendous amount of money. To somebody in poverty, it's a tremendous amount of money. So it's a round number that I don't think is reflective of much.
Will ICE be held accountable for this detainment?
We're gonna get to the bottom of what went on. Where that goes from there, I don't know today.
Are there any specific hurdles you ran into during this process?
It was a view into a broken system. [ICE]'s theory, and their plan, kept changing. As a lawyer, you need to adapt and face what comes at you, and that's what we did. But it's always challenging to have a client incarcerated who's not expecting to be. It's challenging to have media reports, some of which are accurate, some of which are not. It's challenging to have a powerful government with unlimited resources targeting somebody, and then at times changing what they're trying to do. So it's challenging, but at the end of the day, he's out.
What can or should we be doing to help and support 21 at this time?
People who want to volunteer time, energy, storytelling, money, resources, to helping people incarcerated that shouldn't be—I think that's a good thing. Sometimes when there's somebody who's a hero for many, an artist to many, is in an unfortunate situation, it wakes everybody up.
I know that you don't primarily practice immigration law. But how do you feel, having worked on this case, about immigration in this country? Has this changed your views or brought anything new light for you?
I've represented people who have gone through immigration issues; people who live all over the world, in criminal trouble, professional athletes, artists who are here on different visas. So I've been around it, but you are right, it's not my core practice here. But it's very similar to the way the criminal system works in this country. It doesn't work fair, it doesn't work evenly. It incarcerates too many people. This has solidified my views; it hasn't really changed them very much.
Do you have any insight as to how this might affect 21's career going forward?
I expect that it will. It has given him a spirit and energy from the backing he's gotten from everybody, and from the fact that people are behind him. I hope, in a sort of strange way, that it even helps.