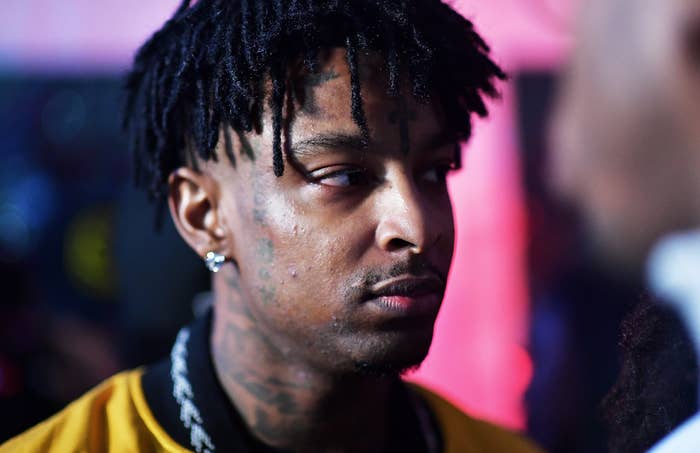 The news of 21 Savage's detainment by the Immigration and Customs Enforcement (ICE) on Feb. 3 elicited a range of reactions.
Most expressed outrage and heartbreak, some made jokes, and others responded with misguided apathy. Citing the thousands of voiceless immigrants who are detained by the U.S. government every single day, the latter portion suggested that paying special attention to 21 Savage's case took away from those without flourishing rap careers and wealth, whose stories go untold. The point is not entirely unfair: In the fiscal year 2018, ICE held over 42,000 people in their custody every day—very few of whom were featured on the front pages of news outlets.
As we celebrate the release of 21 Savage on Wednesday, Feb. 13, it is important to remember that he is not unique. Thousands of fathers, mothers, and children are being held in the same conditions, and facing the same hurdles, every single day, without the benefits of international stardom. As reported by CBS News, a study by Syracuse University's Transactional Records Access Clearinghouse (TRAC) reveals that between October and November of 2018, immigration judges released just 43 percent of undocumented immigrants on bond. Overall in 2018, just 23.5 percent of undocumented immigrants from the United Kingdom, like 21 Savage, were released on bond.
"It could be anybody—your classmate, your teacher, your girlfriend. You truly never know who [these laws are] affecting." - Daniela Gaona
"[ICE] is trying to intimidate communities of color, and immigrants especially," Daniela Gaona, a student at Johns Hopkins University, whose mother was deported in June 2018, tells Complex. "I think [with 21 Savage] they're trying to say, 'It doesn't matter how much money you have, how much impact you've made on your community, how acclimated you are to the culture.' You could be Mother Theresa, and ICE will still try to deport you if you weren't born here."
Gaona is all too familiar with ICE and our broken immigration system. Born in Colombia, she traveled to Miami with her mother when she was nine years old, originally intending to visit family. But when their plane landed, Gaona, who had been spending time with relatives while her mother was being treated for cancer, revealed that she had been suffering sexual abuse at the hands of a relative, and did not want to return to their home country. Her mother took their arrival in Miami as an opportunity to start fresh and protect Gaona from further harm, and decided to stay in the states, settling in Jacksonville, Florida.
21 Savage's legal team has stated that the rapper has never hidden from the government. Neither did Gaona or her mother. "I had to go to court since I was very little. We applied for asylum, but unfortunately, it didn't go through, so we tried to appeal," she explains. "By the time the appeal process was happening, I was already in high school. My mom had a job, we had friends, we were involved in the community. We were acclimated." By that point, Deferred Action for Childhood Arrivals (DACA) was in place, so Gaona was able to remain in the country, and her mother was granted temporary work permits. Their hope was that comprehensive immigration reform would soon be a reality.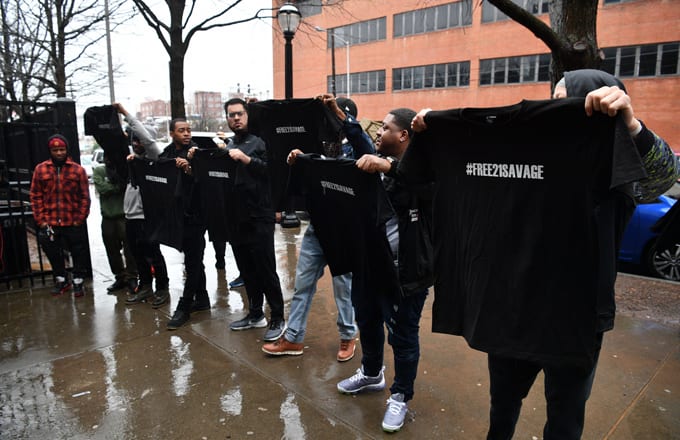 With the election of Donald Trump to the oval office, that hope diminished, and was replaced by constant anxiety. Last May, their worst nightmares came true: During a regular ICE check-in—the first one Gaona was not present for—the agency decided to deport her mother. Initially housed in a county jail, Gaona's mother was later moved to an ICE facility in Miami, where she remained for the rest of the month, before she was put on a flight back to Colombia with nothing but the clothes she'd worn to her check-in.
Courts and other legal institutions are often seen as places of objectivity, where bias is filtered out and judgment is made by impartial strangers. History has proven this to be untrue. In Atlanta, where 21 Savage was arrested, the odds are blatantly stacked against the undocumented. "All the judges here, just about all of them, were former ICE attorneys," says Glenn Fogle, an Atlanta-based immigration attorney who has been practicing for almost 30 years. "They represented the government [in deporting] people."
Even if judges don't have official ties to ICE, there are other systems in place that make the legal process incredibly difficult for undocumented immigrants. In Georgia, the majority of immigration cases take place in Atlanta, but the ICE detention centers are in the middle of nowhere. Irwin County Detention Center, where 21 Savage was held, is 180 miles away (about a three hour drive) from Atlanta. Because of the distance, court proceedings are often conducted over video, a practice Fogle describes as "impersonal," and detrimental to a defendant's opportunity for full and accurate representation.
in 2018, just 23.5 percent of undocumented immigrants from the United Kingdom, like 21 Savage, were released on bond.
Fogle has worked in other cities as well, including Charlotte and Los Angeles, and he explains that there is a specific lack of empathy present in Georgia immigration courts. "Lots of other places, I can call the government attorney on a case, and reason with them, talk to them, tell them the nice things about this individual, try to get them to agree to this or that. You can't do that in Atlanta."
21 Savage has received an outpouring of support from the public—from a Black Lives Matter petition calling for his release to interference from JAY-Z and Roc Nation (who offered the legal services of high-profile attorney Alex Spiro) to shout outs on national television from Ludwig Göransson, Metro Boomin, and Gunna. While these resources are invaluable, and appear to have made 21 Savage's path to bond much smoother than that of the average undocumented person (Fogle believes the press coverage of 21's case likely put pressure on ICE), they didn't do much to change his circumstances while he was detained.
A significant portion of ICE facilities, including Irwin, are for-profit, which encourages shareholders to house detainees as inexpensively as possible, in order to maximize profit from the U.S. government. From a lack of medical care to insufficient food and nourishment, these detention centers are, in Fogle's words, "designed to break people." The idea is that the bleakness of detainment will encourage the incarcerated to agree to a voluntary deportation, rather than subject themselves to the inhumane conditions of a detention facility and the drawn out legal process it would take to (possibly) free them.
On Feb. 5, 21 Savage's co-manager tweeted that the rapper was under 23-hour lockdown in the detention center (the tweet has since been deleted). Gaona recalls her mother being detained under similar circumstances. "The first night [my mother] was at the county jail, they kept her in solitary. She was there by herself." Gaona says her mother was eventually moved from solitary but, like 21, she was locked up for 23 hours a day—sometimes 24. "Some ICE officers were kind to them, and would let them go outside for an hour a day. But some would treat them terribly, verbally abuse them, and not let them go outside some days." 21 was in ICE custody for nine days, which means that, at best, he was allowed just nine total hours of time outdoors.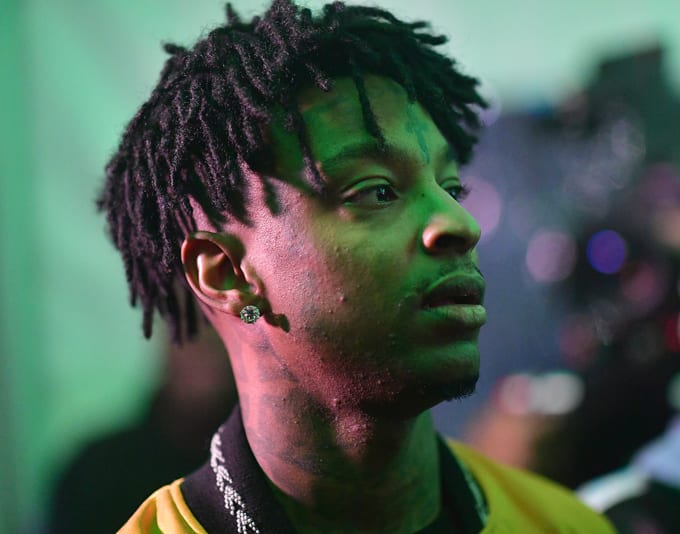 This is not uncommon; ICE operates within its own definitions of the law. And that extends beyond the detention facilities and into the courtrooms where detainees' fates are decided. 21 Savage's lawyers have argued that he was being wrongfully detained, and one of the things they have continued to highlight is his criminal record. Though he did receive a felony drug conviction in 2014, the charge was expunged last September, which would give him a clean record.
Fogle says this doesn't matter. "Immigration defines a conviction differently, to [make arrests]," he explains. "Even a first offender, which formally is not a conviction in any way. ICE will argue that it's still a conviction, for immigration purposes."
Georgia's First Time Offenders Act states that "upon a verdict or plea of guilty or nolo contendere, but before an adjudication of guilt, the court may, in the case of a defendant who has not been previously convicted of a felony, without entering a judgment of guilt and with the consent of the defendant, defer further proceeding and place the defendant on probation as a first offender." If the defendant completes their probation period and is discharged, the charges do not appear on their official criminal history. Details of 21 Savage's prior conviction are currently sealed from his record under this law. Fogle notes that he has seen clients without any prior convictions detained for up to a month before being released. He points to these types of arbitrary detainments as a result of an excessive ICE presence in Atlanta, and agents who "don't have anything to do."
21 Savage has access to some of the most powerful attorneys in the country. The 26-year-old has built up a network of influential fellow artists, who came out in support of him. He has three U.S. citizen children, and a Lawful Permanent Resident mother. He has a pending application for a U visa. He has contributed to his Atlanta community, the home he has always known, via back-to-school drives and financial literacy programs, all for Georgia's youth. As Gaona points out, 21 Savage is a cornerstone of hip-hop culture, which, for all intents and purposes, makes him a cornerstone of American culture. But in the eyes of ICE, none of that mattered.
For ten days, 21 remained in ICE's custody (and remained there until Wednesday, Feb. 13), in one of the worst detention centers in the country. His family, if they were able to see him, likely had to do so through glass. He was, physically, alone. But with the news of his release comes hope: If his legal team could get him out of this swiftly, perhaps there is a chance that ICE and other agencies involved will be held accountable.
For others, hope is more difficult to hold onto.
Gaona's mother is back in Colombia; all deportees are subject to a 10-year ban from the United States. As a DACA recipient, Gaona is unable to leave the country and return. She does not know when she will see her mother again.
"Right now, my mom is still healing from everything that happened," she says, her voice cracking. "I don't think she will ever be the same after that. Seeing my mom in a jumpsuit, it was traumatizing. She's not a criminal. If she broke any law, it was to protect me. I feel like I'm traumatized for life after this."
In Gaona's view, 21 Savage's case shouldn't be seen as an anomaly, or exempt from the concern and humanity afforded to undocumented immigrants like her mom. Instead, it should serve as a wake-up call. "21 Savage is a super famous person, who was brought here as a child, like the rest of us Dreamers. We are so integrated into society that people don't even realize who we are," she says. "It could be anybody—your classmate, your teacher, your girlfriend. You truly never know who [these laws are] affecting."
Living in the digital age has allowed us—fans, critics, consumers—more unfiltered access to celebrities than ever before. Most of our favorite actors and musicians are on social media, interacting with us and reacting to the world around them, in real time. Despite this intimacy, we often fail to conjure up those same emotions we feel in our interpersonal relationships—empathy, compassion, understanding—for these stars.
When a celebrity faces hardship, we prefer to shrug it off, and attempt to diminish the impact of their struggles by contrasting them with the so-called "real problems" of the average citizen. When we choose to dismiss the plight of someone like 21 Savage, because he has money and fame, we rob them of their humanity and fail to acknowledge all of the ways in which race and class operate within the criminal justice system. We squander an opportunity to forge a personal connection with a pressing issue that needs more allies committed to justice.
Empathy can be infinite, if only we will allow it to be. We may not need to send money to 21 Savage, but we can align ourselves with his cause in other ways. We can donate to pro bono legal clinics who serve the undocumented. We can volunteer with organizations providing safety and resources to vulnerable immigrant communities. We can show up to protests and demonstrations, demand change, vote for progressive candidates who want to end the travesties occurring in American prisons, and hold our leaders accountable. Perhaps most importantly, no matter the outcome of 21's case, we can keep paying attention.