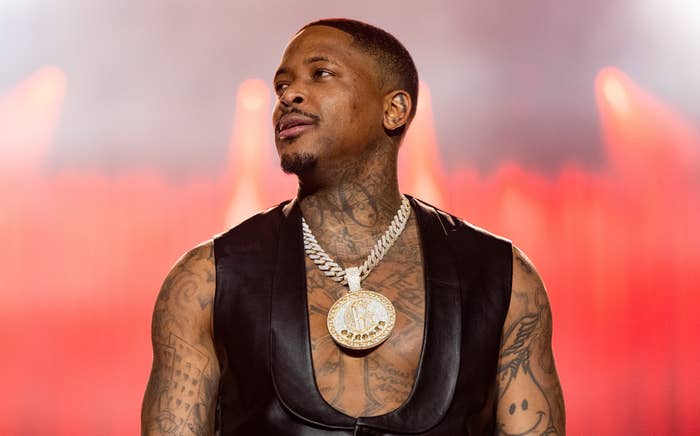 YG is inviting fans to dine with him ahead of a pair of upcoming shows in Southern California. 
Over the weekend, the Compton rapper announced the expensive meet-and-greet opportunities, which will take place before his performances on March 10 and 12 at the Observatory in Santa Ana. For $1,000, fans will be treated to a five-star three-course meal, open bar and a photo-op with the My Krazy Life rapper.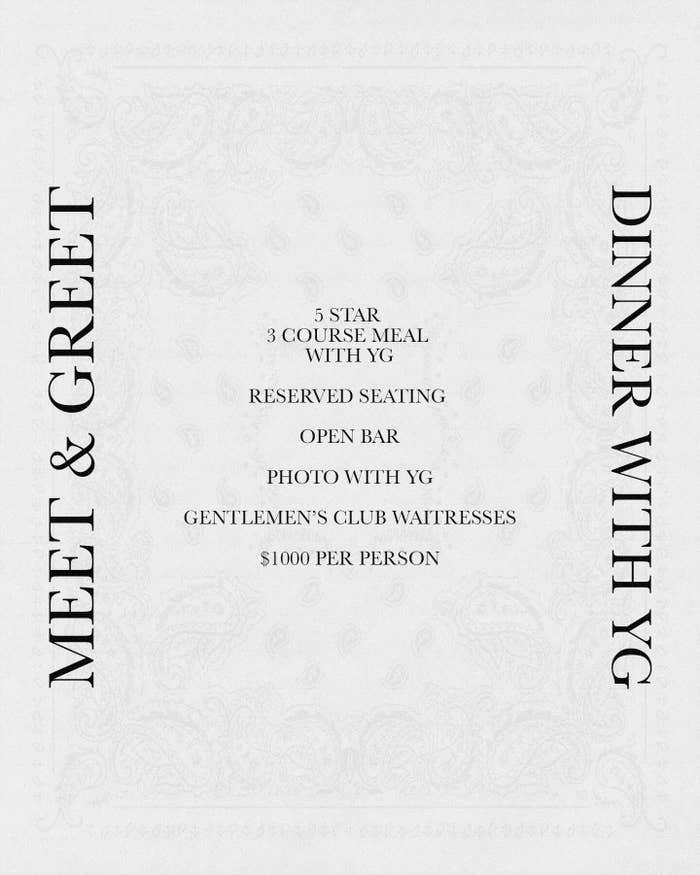 "I said I would never come back to the observatory but here I am, BDAY VIBES LIVE CONCERT put that shitt on & come Fuck with me. UPSCALE EVENT!" YG captioned a post on Instagram.
Of course, YG's meet-and-greet opportunities don't sit well with some people, as several  fans expressed their disbelief at the rapper's costly invite. "Y'all playing $1,000.00 for dinner with YG?" one fan commented on YG's post.
Back in August, Chris Brown sparked backlash after cozying up with fans for his own meet-and-greet opportunity during his One Of Them Ones Tour with Lil Baby.
Breezy subsequently defended the meet-and-greets in a statement on social media. "PSA!!! When artists (everyone) do concerts, they all have something called a VIP package. I haven't done meet and greets in over 7 years..." Brown wrote on Instagram.
"I have the coolest fans on the planet...I appreciate the fuck outta them. These are memories that will last with them forever," he added. "Unlike most of these lame-ass artists that won't make eye contact with the people who made it possible to even have a career. I only exist because these fans saw something in me I never thought was possible… So Ima go all out for my fans!!!