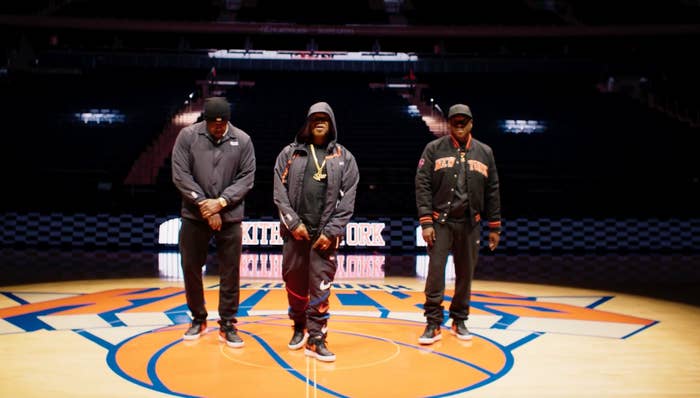 Just a year after teaming up with Dipset for a collaboration with the New York Knicks, Kith tapped another legendary NYC hip-hop group for its new campaign. 
On Wednesday, the streetwear brand recruited The LOX for for another freestyle at Madison Square Garden. For nearly four minutes, Jadakiss, Styles P, and Sheek Louch trade verses while outfitted in in the upcoming Kith x Nike x New York Knicks collection.
To commemorate Kith's 10th anniversary, Jada rocks a varsity jacket with 2011-2021 stitched on the back. Meanwhile, Sheek Louch shows off a black coach's jacket with a Kith x Nike logo on the left chest, while Styles P wears a black Kith x Nike windrunner jacket.
Jada kicks things off with some basketball-inspired bars, rapping, "Sometimes it's kind of hard for me to spit it from the soul/Knowing this music business is politically controlled/Coming from where we from, the triple threat is all we know/Shoot the jumper, pass it, or you take it to the hole."
Kiss' verse sets the stage for Sheek, who opens his verse rapping, "New York, New York, what's bigger than this/The home of Jay-Z and Nas, matter of fact, the home of Biggie and Kiss."
Of course, Styles P bats cleanup, delivering a show-stopping verse that arguably upstages the previous two depending on who you ask.
Watch The LOX's explosive full freestyle for Kith up top.