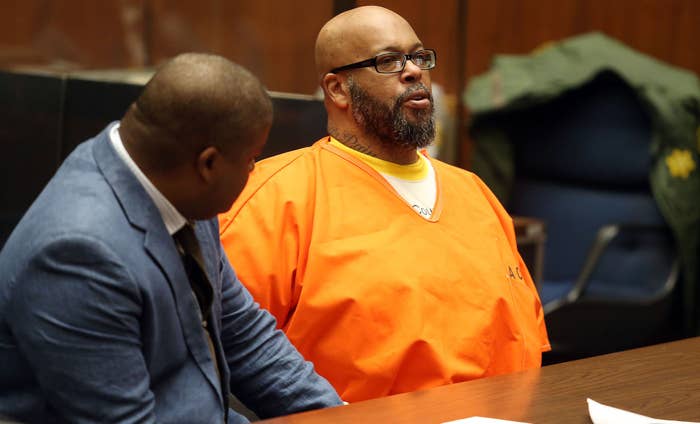 Suge Knight's former attorney pleaded guilty to conspiracy and perjury charges on Wednesday, resulting in his permanent disbarment from practicing law, KTLA reports.
Matthew Fletcher, 57, who previously represented the Death Row Records founder when Knight faced murder charges in 2016, pleaded no contest to one count of conspiracy to obstruct justice and one count of perjury. In a bid to avoid jail time, Fletcher has agreed to stop practicing law. In addition, he will be placed on probation for five years.
The news arrives nearly four years after Fletcher was accused of attempting to bribe potential witnesses during Knight's murder trial. After obtaining a warrant to listen in on jailhouse phone calls between Fletcher and Knight, prosecutors charged Fletcher with one count of conspiracy to commit bribery, conspiracy to commit subornation of perjury, conspiracy to commit obstruction of justice and accessory after the fact.
Fletcher is said to have attempted to pay witnesses to testify that there were guns at the scene of the 2016 incident in which Knight hit two men with his truck, which would corroborate his assertion that he acted in self-defense. He allegedly told Knight that it would cost him "$20,000 to $25,000 to secure his freedom." Fletcher was also accused of conspiring to pay the man who survived the incident. 
Fletcher's attorney, Alexandra Kazarian, told Billboard that Fletcher's trial was a "travesty of justice." Kazarian also claimed that the presiding judge had "telegraphed over and over since the start, that he was gunning to send him to prison for the maximum sentence."
"The forces that be combined to target him and take him out of rotation," Kazarian said. "This was an orchestrated hit, and he definitely went down fighting. It's not the result I was hoping for, but it was the smartest move he could've made."
Instead of potential prison time, Fletcher now faces five years probation. 
Back in 2018, Knight was sentenced to 28 years in prison after pleading guilty to voluntary manslaughter in connection to the death of Terry Carter, who he struck with his truck in the parking lot of a Compton restaurant in 2015. The L.A. Times reported the incident was the result of a dispute on the Straight Outta Compton movie set.