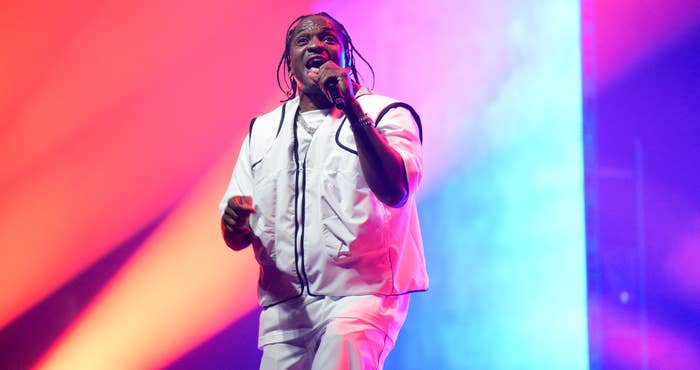 Fresh off dropping his latest full-length offering It's Almost Dry, which was ranked No. 3 on Complex's Best Albums of 2022, Pusha-T is gearing up to drop another tape soon.
The GOOD Music rapper revealed in a recent conversation with Rap Radar's B. Dot on Twitter Spaces that he's joining forces with DJ Drama for a Gangsta Grillz mixtape, which is expected to arrive sometime in 2023.
The Gangsta Grillz tape will serve as the follow-up to Pusha's fourth studio album It's Almost Dry.
Released on April 22, It's Almost Dry debuted in the top spot on the Billboard 200, moving 55,000 album equivalent units in its first week out, 9,000 of which were comprised of physical album sales. 
The project was largely produced by Pharrell and Kanye West, and features standout tracks like released "Diet Coke," "Neck & Wrist," and "Hear Me Clearly," as well as guest appearances by Jay-Z, Kid Cudi, Don Toliver, Lil Uzi Vert, No Malice, and more.
Of course, Pusha-T is just the latest rapper to team up with DJ Drama for a Gansta Grillz mixtape, following the likes of J. Cole (2022's D-Day), Meek Mill (2012's Dreamchasers 2), 2 Chainz (2011's T.R.U. REALigion), Gucci Mane (2008's The Movie), Lil Wayne (2006's Dedication 2), and Young Jeezy (2005's Trap Or Die), among others.