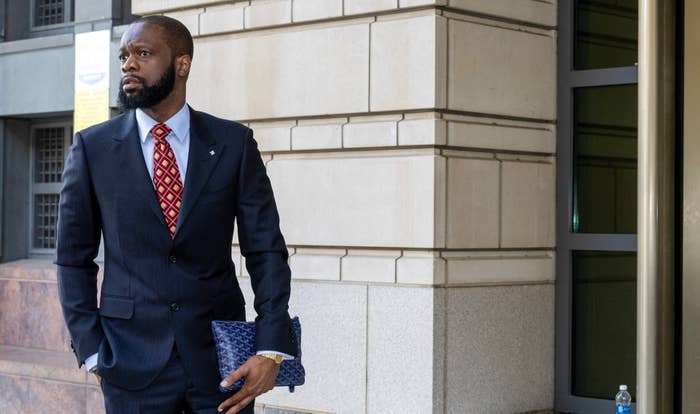 UPDATED 04/27/23, 3:50 p.m. ET: A previous version of this story incorrectly suggested that Pras Michel admitted he was an FBI informant when he only admitted to speaking with the FBI.
"Simply stated, if Pras had been an informant for the government, he wouldn't be on trial right now. The government does not prosecute and threaten its informants with more than two decades of jail time," a rep told Complex via email. "Pras never was an 'informant' for the FBI… Michel also told the jury he was simply a connector, helping Low find counsel for civil charges brought by the US government and letting government officials, including FBI agents, know that China wanted Guo extradited.
The statement from the rep continued, "To be clear, an informant cuts a deal with the government, so why would he be on trial if he were an informant. Nothing could be further from the truth, and the reckless suggestion that he was an informant carries life-threatening implications in hip-hop circles."
On Wednesday, Pras was found guilty in his conspiracy case. Head here to read more.
See original story below.
Fugees fans are calling out Pras Michel, who recently took the stand in his federal conspiracy trial and said he spoke with the FBI. 
Back in March, Pras opened up to Rolling Stone about facing up to 22 years in prison for his alleged involvement in a money laundering scheme and association with a foreign country attempting to influence the U.S. government. 
Pras is accused of "conspiring to make illegal campaign contributions using foreign funds," as well as witness tampering and failing to register as a foreign agent of the Chinese government.
According to prosecutors, Pras donated a total of $1.1 million to Barack Obama's 2012 campaign, though the funds were actually given by Jho Low, a Malaysian fugitive wanted for his connection to the 1Malaysia Development Berhad scandal. Pras also contributed to Trump's campaign through Low. 
"What benefit would I get trying to break laws? It's not worth it to me," Pras told RS. "I'm like a pariah now. I've got friends who won't talk to me because they think there's a satellite in orbit listening to them."
Now, fans of Pras and the Fugees are blasting the rapper for being an informant, something that he did not technically admit to. 
"When you consider Wyclef's charity scams, Pras being a fed, Lauryn's live performance grift, and John Forte's dope dealing the Fugees camp is first team All- Infamous," one Twitter user wrote.
Another person couldn't contain their disappointment, writing, "As someone who grew up on the Fugees. This pras news is just wild."
Scroll down to see some of the reactions of fans conflating Pras saying he spoke with the FBI with him being an FBI informant.