Nicki Minaj called out a reporter for allegedly harassing her family.
"You are the one harassing my family???!!?!???! SPEAK UP B4 I BEGIN. I KNOW YOU SEE THIS!!!!!!" Nicki wrote on Twitter.
"What @NICKIMINAJ either does not know or does not care about is Trinidad and Tobago is currently under a State of Emergency. Many business sectors are closed and have been for months on end. Vaccination is our way out," an account that Nicki believed was the reporter's previously shared.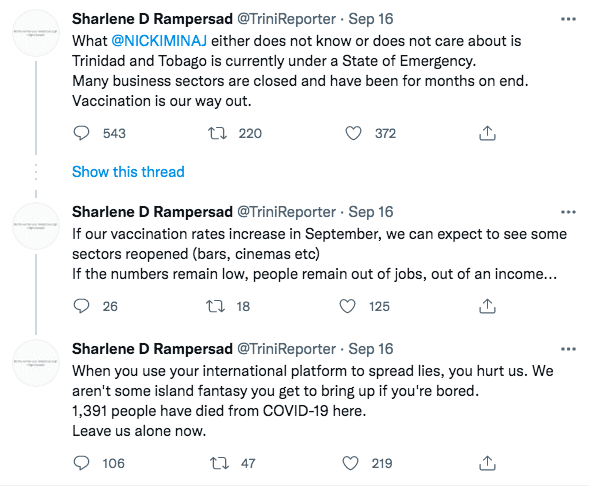 Meanwhile, Minaj took to her Instagram Story to share direct messages that she said her family received from the reporter, who claims to be a "reporter from Guardian Media."
"I was hoping to speak with you for an article," one message purportedly said, before the reporter allegedly began issuing threats. "I know you are hesitant to speak with us, but just so you know, CNN is in the country looking for you. And when they find you, they won't hesitate to reveal where you live or where your gf lives...anything and anyone who is tied to you."
"If you speak to me, we won't reveal those details," the final message said. "So, what do you say?"
From there, Nicki vented in her IG story about the situation.
"They're forcing my family to have to hide out. This is what speaking up looks like. Millions of poor people are treated this way by the ppl you think are the 'good guys.' This is unconscionable," Nicki wrote in one post to her Stories.
Nicki continued, "Threatening my family in Trinidad won't bode well for you… Bitch your days are fucking numbered you dirty hoe." She also called out a second reporter in the process.
The encounter arrives just two days after Trinidad and Tobago's Minister of Health Terrence Deyalsingh slammed Nicki for her thirdhand swollen testicles claim. 
In a regional report from CNC3, Deyalsingh announced he and his team were not able to find any truth to the claim of Minaj's cousin's friend having been left with swollen genitalia after receiving the COVID-19 vaccine.
"We had to check and make sure that what she was claiming was either true or false," Deyalsingh said in a news conference. "Unfortunately, we wasted so much time yesterday running down this false claim. As far as we know at this point in time, there has been no such reported either side effect or adverse event."
Dr. Anthony Stephen Fauci also refuted unsubstantiated claims of the COVID-19 vaccine causing infertility following Minaj's comments. 
"There's no evidence that it happens, nor is there any mechanistic reason to imagine that it would happen," the Director of the National Institute of Allergy and Infectious Diseases said. "So the answer to your question is 'no.'"
Earlier in the week, Minaj claimed that she was locked out of Twitter and that the White House invited her to speak with Fauci and the surgeon general of the United States. Both of Minaj's claims have since been denied.