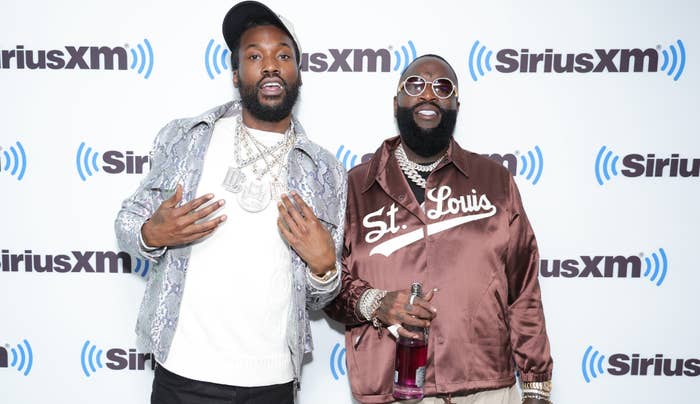 Ahead of the release of their new collaborative album Too Good to Be True, Meek Mill and Rick Ross appeared on the latest episode of Complex's 360 With Speedy Morman, where they shared stories about their long, storied careers.
During the duo's discussion with Speedy, Meek Mill recalled his feud with Drake, revealing that Rozay told him that he and the Toronto rapper would be fine in "three years."
"Ross told me, 'In three years, you'll be alright man," Meek said at the 14:45 mark of the below interview. Ross added, "I told them, y'all n***as will be fine, trust me. I knew what space [Meek] was in. And I knew where Drake was at."
Meanwhile, when it comes to Rozay's long-standing beef with 50 Cent, the Florida rapper doesn't believe the pair will ever reach a similar space of peace.
"I ain't got no jobs for him or nothing," Ross said.
Back in October, Meek told SiriusXM's Hip Hop Nation how his relationship with Drake has evolved since the two rappers ended their years-long feud back in 2018.
"Me and Drake talking to each other a lot," Meek shared. "Somebody was saying 'Drake['s] 'Slime You Out' was corny.' I texted him. I was like, 'I don't think 'Slime You Out' is corny, and I would tell you if I thought it was corny.' I just ain't think the song was corny. … But on the internet now we got it like that, where we could like be brutal."
The Philadelphia rapper continued: "If he thinks my song corny, he could tell me that. We never was at a space like that before the beef. And now we got to a space where we can text each other and say anything … We got that honesty where we can leave it on the table and we can walk away and feel good about that. And we ain't had that before the beef."