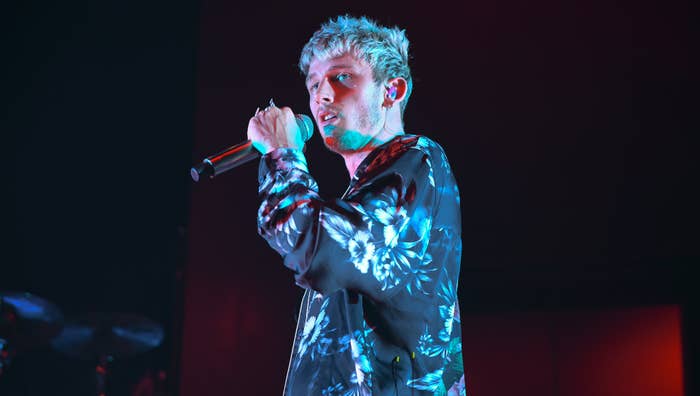 Machine Gun Kelly was electrocuted while performing onstage Friday night in Arizona.
Booked as the headlining act for the Coors Light Birds Nest concert series at Scottsdale's 2023 Waste Management Phoenix Open, MGK was going about his performance when some sort of static buildup caused the rapper-turned-punk-rocker's hair to stick straight up toward the sky. 
The moment, which was captured by at least one fan in the crowd, circulated social media on Saturday,  prompting Machine Gun Kelly to confirm that, yes. he in fact was electrocuted. 
MGK reposted the clip on his Instagram Story, as he could barely contain his own surprise at barring witness to the bizarre viral clip. "Yooo," MGK wrote, "I got electrocuted and my hair stood up." 
TMZ confirms that no medical assistance was needed at the scene, as MGK spent the rest of the night attending Drake's Super Bowl party with his fiance Megan Fox.
Earlier that day, MGK made sure to thank his fans for selling out the show during such a big weekend.
"I'm playing this PGA golf Birds Nest show tonight, and they've been doing it, I think, for like 70, 80 years, or something, and it's the fastest-selling show they've ever had, and you guys did that. That seems to be the theme with all the shows they've been announcing lately with us on it," he said. "I'm just really, really flattered and honored, because I don't even post a lot of the stuff, and you guys just find it and spread the word. It makes me really happy and very proud to be with you guys."