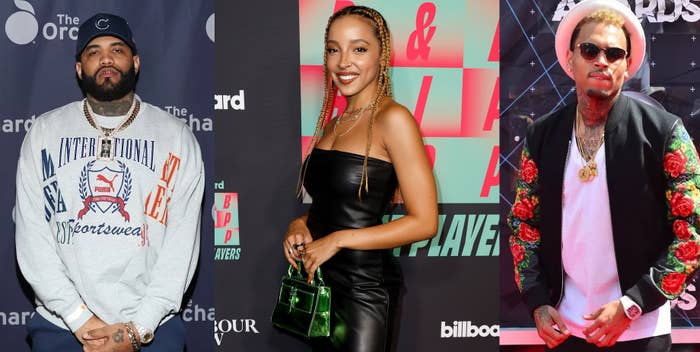 Joyner Lucas is coming to the defense of Chris Brown after Tinashe expressed regret for collaborating with the R&B superstar nearly a decade ago.
During a recent interview on the Zach Sang Show, Tinashe, who was signed to Sony's RCA Records from 2012 through 2019, blamed her label for adding a Chris Brown feature to her 2015 single "Player." It's worth noting Tinashe's slight came after she admitted she feels embarrassed over an R. Kelly collab that also dropped in 2015.
On Sunday, Lucas hopped on social media to address Tinashe's comments regarding Brown. In a short clip shared on Twitter and Instagram, Joyner urged "celebrity weirdos" to keep his many-time collaborator Breezy's name out of their mouths.
"I'ma say this shit one time and I'm not gonna say it again: there will be no fucking Chris Brown slander tolerated, my n***a," Lucas said. "I'm not talking about the fans...I'm talking about you fucking celebrity weirdos that go on these podcasts and start popping shit at my n***a for absolutely no fucking reason."
Lucas continued, referencing Selena Gomez without naming her, "N***as making faces and shit. N***as tryna take shots, talking they little shit, saying whatever they say, trying to get a reaction. And then once a n***a react to you, then you n***as can go, 'Oh look, see, he's aggressive. Look, he did Rihanna.' No, n***a, we not doing that."
Joyner went on to remind listeners that Brown has "real n***as that love and respect him."
"He got an army behind him," Lucas said. "I'm one of the n***as that love and respect him. I'm standing in front of the fucking bullet. I'm taking every shot. ... He not gonna give you n***as what you want. And we not gonna just use Chris as a clout tool, my n***a. Whenever you n***as wanna reach, say his name, pop shit just to get some fucking clickbait. … If anybody takes shots at my n***a, I'm taking shots."
Besides working with him on a string of collabs, Lucas says Brown "changed my life" and is "the closest thing we got to Michael Jackson, I don't give a fuck what you say about The Weeknd."
Joyner's comments come on the heels of Brown's response, which saw the R&B legend react to Tinashe's slight by questioning her popularity.
"Name 5 Tinashe songs or die...," Chris wrote under the comments of an Instagram post with a video of Tinashe's comments. "Everybody dead."