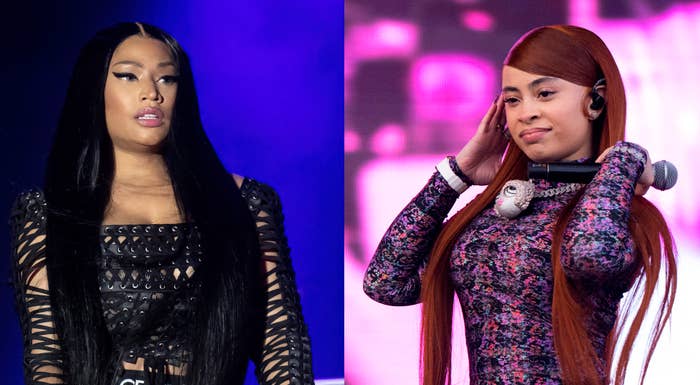 As one of rap's long-reigning queens, Nicki Minaj isn't shying away from showing her support for rising artist Ice Spice.
Nicki took to social media on Monday to shout out Ice Spice, who recently performed at Rolling Loud, and this week graces the latest cover of Dazed magazine. "The People's Princess," the headline reads.
"GAG!!!" Nicki wrote on her Instagram Stories alongside a screenshot of the 23-year-old's cover. Minaj also emphasized the princess line before tagging Ice and telling her to "Catch it!!!"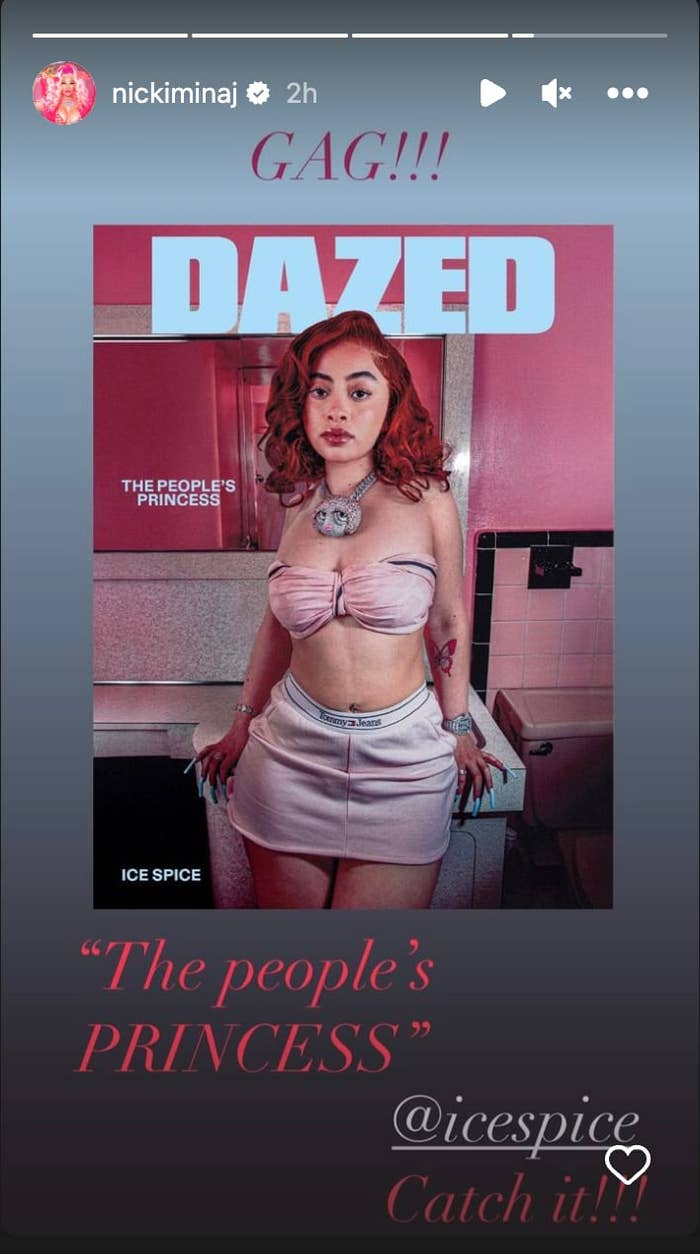 From there, Nicki exchanged pleasantries with Ice in the comments, quoting the new star's "Princess Diana" lyrics back to her.
"Btchs slow so I gih dem a pass. 🔥 Nah. Grah! No more passes Princess…Let's go," Nicki wrote beneath one of Spice's posts, which featured the up-and-comer performing at Rolling Loud earlier this month.
Ice Spice caught Nicki's Stories post and a similar tweet, and reshared both, writing, "ya heard da QUEEN."
She also took a minute on Sunday to revel in her come-up, pointing followers to the moment over two years ago when Nicki first followed her:
Back in November, Ice Spice dropped her debut project Like..?—a six-track EP featuring cuts like "Bikini Bottom," "Gangsta Boo," and her breakout single "Munch (Feelin' U)."
Spice is now gearing up to to unleash her forst album, which is expected to arrive in the coming months.
"Most likely this year, since I'm going to have 10 songs, something like that or whatever," she told Ebro Darden about her timeline in a recent interview. "[It's] definitely going to be different vibes in there, for sure. I don't want to talk too much on it because...you feel me? But gotta keep the secret sauce a secret."