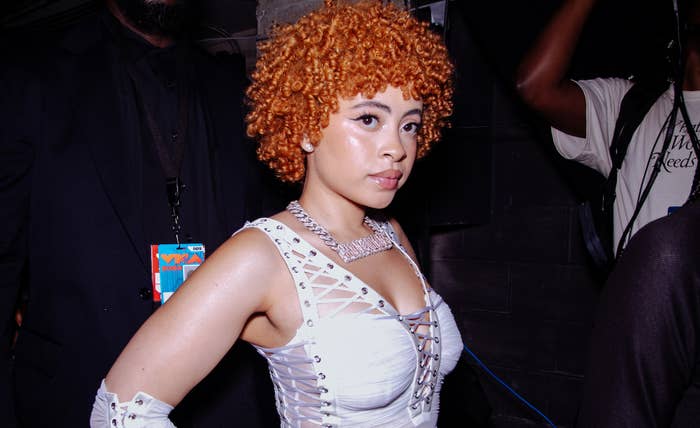 Ice Spice isn't afraid of competition.
In a new interview with Variety, Ice Spice spoke about competing against A-list peers like Nicki Minaj, Cardi B, Megan Thee Stallion, City Girls, and Latto, among others for example.
"It is a competition at the end of the day," the 23-year-old explained. "People want to be all 'I'm a girl's girl,' but then behind the scenes being bitches. Basically, we here, the girls, are doing amazing. I'm excited to see it. I feel like the competition is what keeps us all excited because I think we all secretly enjoy competing and seeing who put that shit on better and who's gon' get the most views."
Ice Spice continued by explaining that in today's rap game, female MCs aren't just battling each other but also the current crop of A-list male rappers.
"I can be transparent, and I know the competition is checking on me too, which is why it's OK to say that," she shared. "Because it's like, 'Yeah, girl, I'm watching you and I know you watching me.' And boys are watching too, because they be secretly haters. But everybody today is competing with everybody no matter if you a boy, girl, nonbinary, whatever it is. You still checking in on your competition. That's in every industry."
Elsewhere in the story, she responds to Matty Healy and chatter that she's an industry plant.
Since arriving on the scene on the strength of her breakout hit "Munch" in August 2022, Ice Spice has been on a tear, releasing a string of one-off singles including "Bikini Bottom" and "Princess Diana," both of which appeared on her debut EP Like..?, which dropped last January.
Over the first half of 2023, Spice has continued her momentum, appearing alongside Taylor Swift on the latter's "Karma (Remix)," as well as teaming up with Nicki Minaj on Spice's recent track "Barbie World" for Barbie: The Album.