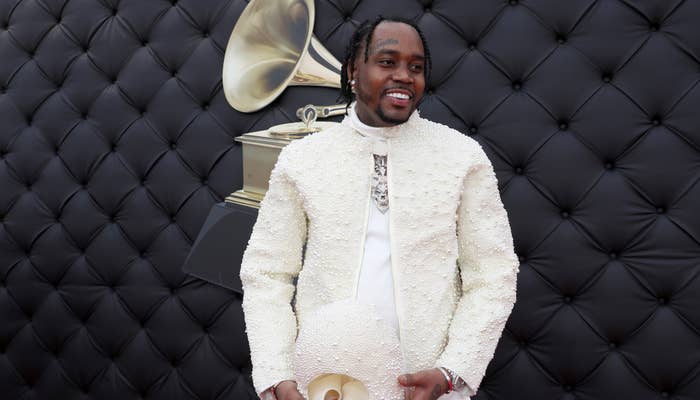 The latest chapter in the recent back and forth between Fivio Foreign and Mase unfolded on Wednesday, with the Brooklyn drill rapper teasing a song that samples one of the Harlem rapper's classic singles.
Fivio took to Instagram to share a snippet of an unreleased track that clearly samples Mase's 1997 hit "What You Want" featuring Total, which appeared on the Bad Boy rapper's debut album Harlem World. 
"What you want from me?," Fivio captioned the clip, which features him cozying up to a woman in the studio while the track plays in the background.
Back in July, Fivio appeared on the Million Dollaz Worth of Game podcast, where he opened up about a questionable recording contract he signed with Mase's RichFish label in 2019. According to the Brooklyn rapper, his production deal included a measly $5,000 advance.
"The n***a that brought me to him, he was like, 'Yo, man. Just sign that shit, You buggin,' I'm like, 'Yeah, read it.' He's like, 'Alright, just sign it. It's good.' So, I just signed it," Fivio told Gillie Da Kid and Wallo267.
"I thought that shit was going to last until whenever it was going to last. That shit ain't last two weeks." Fivio continued. "I don't really be complaining or crying over spilled milk. I already made this decision. For me, I'm in a better situation now. He get what he get…But I control my money." 
Earlier this week, Mase addressed Fivio's claims in an appearance on Million Dollaz Worth of Game, accusing Fivio of being "reckless" before claiming that his advance was actually $750,000. 
"Because I set him up to do a deal to where I can control the deal, make the deal what it should be because I knew if he had the leverage, he would go in there and sell both of us out," Mase explained.
"Then, when we went in the building, I took $800,000 and he took $700,000," he added. "The reason why it went down to $700,000 is because when I gave him $750,000 and I took $750,000, he owed me $50,000." 
Watch Mase's full interview on Million Dollaz Worth of Game below.