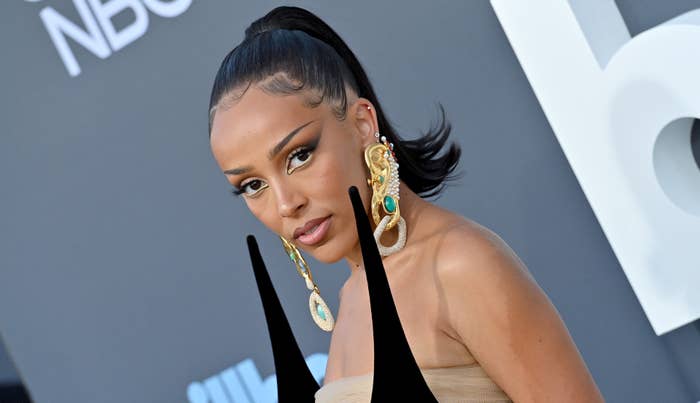 As the debate about whether or not she's a rapper rages on, Doja Cat has added several more certifications to her expanding trophy case.
Doja earned herself 22 new RIAA certifications on Friday, as her last two albums, 2021's Planet Her and 2019's Hot Pink, were certified platinum and her 2018 debut Amala was certified gold.
The Los Angeles artist earned an additional 19 new certifications thanks to her catalog of hit singles. Hot Pink's chart-topping hit "Say So" is now five-times platinum, while her 2021 SZA-featuring single "Kiss Me More" has gone four-times platinum. 
In addition, five tracks off Doja's 2021 LP Planet Her were certified platinum: "Need To Know" (3x platinum), "You Right" (2x), "Woman" (2x), "Ain't Shit" (platinum), and "Get Into It (Yuh)" (platinum). Another five songs from Hot Pink were certified platinum: "Juicy" (3x), "Like That" (2x), "Streets" (2x), "Rules" (platinum), and "Cyber Sex" (platinum). Meanwhile, a pair of singles from Doja's 2018 debut also earned platinum plaques: "Tia Tamera" and "Candy."
As if that wasn't enough to establish Doja as one of the biggest rappers in the game, she earned an additional six gold certifications this week, for "I Don't Do Drugs," "Freak," "Amala," "Bottom Bitch," "So High," and "Mooo!"
In a recent interview with Elle, Doja opened up about her Planet Her follow-up and spoke on those who claim she isn't a rapper in the traditional sense. Writer Marjon Carlos reports the Grammy-winner will have "plenty of opportunity to prove the haters wrong on her next album, which she tells me will be predominantly rap."
"I've rapped since the beginning, and I really couldn't even sing that well to begin with—I got a lot better," Doja said. "I use my voice as a tool to create these worlds, and it's fine if people think that I can't rap."