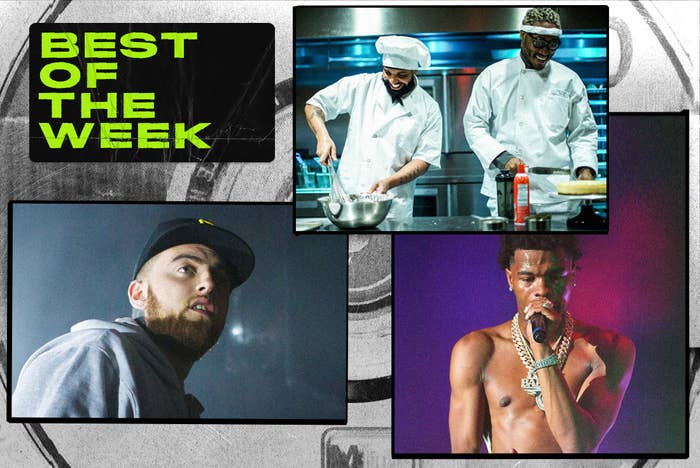 Some of our favorite artists delivered new music this Friday, as we were blessed with projects from Selena Gomez (Rare), Moneybagg Yo (Time Served), Mick Jenkins (The Circus EP), and more. Beyond the full-length offerings, some of the best new music this week came in the form of singles: Mac Miller's "Good News"; Future and Drake's "Life Is Good"; Lil Baby's "Sum 2 Prove"; Megan Thee Stallion and Normani's "Diamonds"; and 2 Chainz and Skooly's "Virgil Discount." These are the best new songs this week.
Mac Miller, "Good News"
Following Mac Miller's family's announcement that they will be delivering his posthumous album, Circles, next week, fans were treated to a new single, "Good News." Co-produced with Jon Brion, the six-minute, poignant tune is spiritually in step with Miller's last album, 2018's Swimming, with understated optimism and a calming melody. "Good news/That's all they wanna hear," he sings in the chorus. "No, they don't like it when I'm down/When I'm flying, oh, it makes 'em so uncomfortable/So different, what's the difference?" The song comes alongside a music video that opens with some in-studio footage of Miller, before viewers are taken into an abstract world filled with archival photos, album cover art, and video clips from concerts. Posthumous albums rarely meet expectations, but this one might.
Future f/ Drake, "Life Is Good"
Since the release of their 2015 joint mixtape, What a Time to Be Alive, Future and Drake have linked up for several quality collaborations (2016's "Grammys," "100it Racks," and "Used to This"; 2018's "Blue Tint"), which has only increased the demand for another full-length offering from the pair. Finally, following months of rumors, it looks like Future and Drake might be ready to deliver a WATTBA follow-up. We'll have to wait and see if "Life Is Good" is in fact the lead single for their next project or a stand-alone offering, but either way, it's great to have the 6 God and Future Hendrix back together to kick of 2020.
Lil Baby, "Sum 2 Prove"
Backed by retro synths and soulful piano chords, Lil Baby raps as if he's still got a chip on his shoulder on "Sum to Prove." "Livin' like we in a race/I might come in first and second but I won't ever be last/Lately I been in my bag/Bro told me don't take my foot off the gas/They give you a inch, gonna take you a mile/I'ma shoot by myself, like a technical foul/City to city, got girls goin' wild," he boasts on the opening verse. Along with July's "Out the Mud" and November's "Woah," "Sum 2 Prove" is expected to appear on his much-anticipated sophomore album, My Turn, which is scheduled to arrive in the first half of 2020.
Megan Thee Stallion & Normani, "Diamonds"
After teasing a collab near the end of last year, Megan Thee Stallion and Normani made good on their promise this week, with "Diamonds," a new single from the soundtrack to Birds of Prey (and the Fantabulous Emancipation of One Harley Quinn), the new DC movie where Margot Robbie reprises her Suicide Squad role as Harley Quinn. Sampling Marilyn Monroe's iconic number "Diamonds Are a Girl's Best Friend," the adrenaline-fueled track brings out the best in both artists, as Normani handles the hook with her sultry vocals, while Megan attacks each verse with her confident flow.
2 Chainz & Skooly, "Virgil Discount"
Almost a year removed from his last album, 2019's Rap or Go to the League, 2 Chainz made his return this week with "Virgil Discount," a single for the upcoming T.R.U. compilation project, NO FACE NO CASE."It adjusts the mood on your face," 2 Chainz shared about the new single via press release. "It's got the grit and the Atlanta sound I like to talk about. It's a heavy one with a lot of power." Highlighted by its flute-driven beat and Chainz's lyrics about designer goods, "Virgil Discount" is everything we want from Tity Boi.
Selena Gomez f/ Kid Cudi, "A Sweeter Place"
A week after her former flame, Justin Bieber, returned to the spotlight with "Yummy," Selena Gomez surprised fans with Rare, her first album since 2015's Revival. The project's outro, "A Sweeter Place," is an early standout, and sees the pop singer join forces with Kid Cudi. They bring out the best in one another, as the hip-hop influenced track finds both artists looking to escape their past troubles.
Moneybagg Yo f/ DaBaby, "Protect da Brand"
After landing a Moneybagg Yo guest verse on KIRK ("TOES"), DaBaby returns the favor on "Protect da Brand," an early standout from the Memphis native's new project, Time Served. The southern rap titans trade verses over a hard-hitting beat courtesy of YC, as Moneybagg ensures that his brand is in good hands as long as he's in charge, before DaBaby closes things out with a scene-stealing verse of his own.
Mick Jenkins f/ EarthGang, "The Light"
Since his 2018 album, Pieces of a Man, we've been patiently awaiting the return of Mick Jenkins. This week, fresh off the release of his latest single "Carefree,"  Jenkins delivered The Circus EP, a seven-track offering with production from Hit-Boy, Black Milk, Beat Butcha, and more. An early standout from the project, "The Light" pairs the Chi-town writer with Dreamville's EarthGang, who help guide listeners into a meditative state with their magical realism.