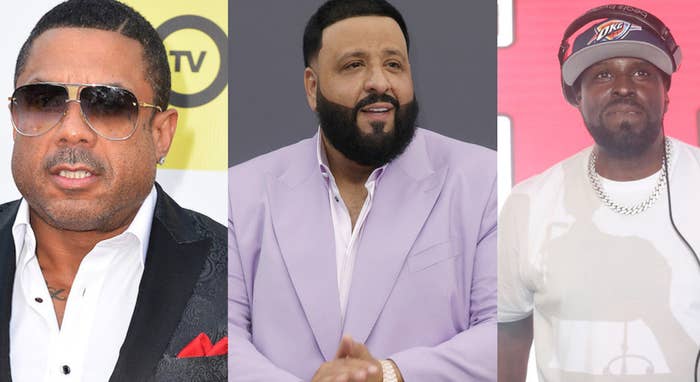 Benzino is calling out DJ Khaled and Funkmaster Flex for using him to get famous.
The former owner of The Source took to Twitter this week to issue a lengthy rant in which he took shots at the pair for taking advantage of his platform. 
"It's funny how when I owned the Source & EP'd the Source Awards I gave a lot these guys who are successful a major platform & some even a bag, but when I fell, they all act like they don't me, I just smile how they big 'celebrities' now, back then needed my platform & helped them," he wrote.
"I remember Dj Khalid dying to dj the Source Awards & to be in the magazine & I made it happen, or Kevin Hart wanting to host & I made it happen," Benzino continued. "Funk master Flex another 1, I let him Dj, Now these niggas act like I'm a stranger, people don't gaf, they use u with no reciprocation."
Benzino went on to accuse Khaled and Funk Flex of switching up after they became stars, before claiming he has more respect for untapped talent than he does for the pair. 
"I'm sorry, I seen these guys when they had nothing, they didn't act the way they act now," he wrote. "I got more respect for these young Niggas in the game, at least they looking out for they people. Damn you can't bring the money with you when you go."
Benzino concluded his Twitter rant by reminding his critics that he's "never switched up."
"Falling is apart of life, you fall, you get up, you keep going. I'll be up again, I'm from the dirt, I'm a hustlers hustler. I got good karma. One thing about me is I never switched up, I'm the same now as I was when I was getting it. I always showed and show love."
Read Benzino's tweets below.