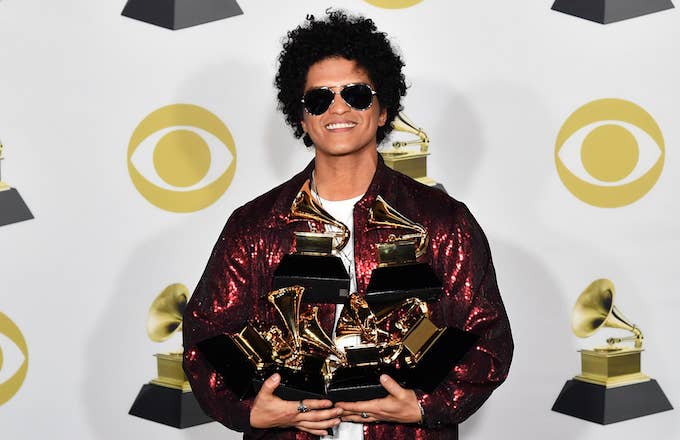 The 2018 Grammys were a successful night for many of music's biggest players, and their wins quickly translated to huge sales gains for songs performed during the broadcast, according to Nielsen Music. Their sales reports indicate all of the tunes the artists showcased on stage collectively earned a whopping 328 percent increase in download sales in the U.S. on Sunday. 
The songs performed throughout the night, along with the original versions of songs covered, sold 74,000 downloads on Jan. 28 — a noticeable jump from 17,000 from the previous day. One of the notable artists who saw an immediate surge was Bruno Mars, who took home six Grammys, including Album of the Year. His unforgettable night clearly resonated with fans, as 24K Magic rose 157 percent (over 2100 units) while the title track surged 176 percent (nearly 2300 units). Mars' "That's What I Like," winner of Song of the Year, jumped by 186 percent (nearly 2000 units).
Kendrick Lamar was another big winner of the night, taking home five out of seven awards including Best Rap Album for Damn. "Humble" sales increased by 71 percent (nearly 900 units) and Damn rose by 92 percent (over 800 units). "Loyalty," his Grammy-winning collaboration with Rihanna, jumped by 273 percent (nearly 1200 units). Kesha's "Praying" performance was one of the most significant moments of the Grammys, and its sales reflected such. The powerful single rose by over 8,000 units (the biggest unit increase of any performed song), or 720 percent. The sales from her Rainbow album jumped by 289 percent (nearly 500 units).
Other large gains of the night included Childish Gambino's "Terrified" and Pink's "Wild Hearts Can't Be Broken," both of which soared to 4,000 and 5,000 units sold, respectively. Logic's "1-800-273-8355" with Alessia Cara and Khalid grew 436 percent, surging from 1,000 to 5,000 sold. And while he didn't walk away with a Grammy this year, the sales of Jay-Z's 4:44 album increased by 55 percent (+300 units). Songs "4:44" (+143 percent/+180 units), "Story of O.J." (+135 percent/+180 units) and "Family Feud" (+118 percent/+100 units) all had increased sales as well.
While these sales gains were a success for performing artists, the Grammys lost nearly 10 million viewers compared to last year, Variety reports. 19.81 million tuned in, which is down 24 percent from the Feb. 12, 2017 viewership. It is now the worst ceremony broadcast since 2009.