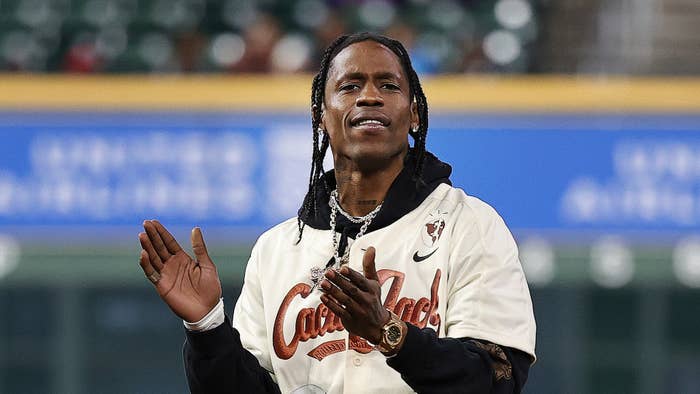 Fans are speculating that Travis Scott dissed Timothée Chalamet—who is rumored to be dating Kylie Jenner, the mother of his children—on the Utopia track "Meltdown."
At the end of the second verse of the track, La Flame makes reference to Willy Wonka, a character Chalamet is set to portray in the film Wonka. "Wrappin' the cheese, wrap around me 'cause I've got property (Wrap, cheese, wrap) / Chocolate AP and chocolate the Vs (Vs), got the Willy Wonka factory (Vs) / Burn a athlete like it's calories, find another flame hot as me, bitch," he raps.
The lines immediately caught the attention of fans. "Listening to 'Meltdown' again lmfao why Travis dissing Timothée," wrote one Twitter user. "Never in my life would I've thought to witness Travis Scott dissing Timothée Chalamet," added another.
Scott and Jenner reportedly broke up earlier this year and she's since been seen getting close with Chalamet. Sources told Us Magazine in April that Jenner's friends aren't convinced she and Scott are "done for good," but around the same time, her car was allegedly spotted outside of Chalamet's home in Beverly Hills. She dated Scott on and off between 2017 and late 2022. They share two children, five-year-old Stormi, and 13-month-old Aire.
The Utopia track has already attracted attention for Drake's verse, in which he took shots at his old rival Pusha T and, unexpectedly, Pharrell. "Man, fuck all that spinning the narrative shit/I melt down the chains that I bought from your boss," Drake raps in the back half of his verse. "Give a fuck about all of that heritage shit/Since V not around the members done hung up the Louis/They not even wearing that shit."
Earlier this year, Drizzy purchased jewelry that previously belonged to Pharrell.
The follow-up to 2018's Astroworld is an expectedly star-studded affair, with appearances from Beyoncé, 21 Savage, Future, Swae Lee, Playboi Carti, SZA, Bon Iver, James Blake, Yung Lean, Teezo Touchdown, and Sampha, among others. The production side of things is just as stacked, with the credits listing the likes of Kanye West, Pharrell, Metro Boomin, Mike Dean, The Alchemist, Wondagurl, Illangelo, and Boi-1da.
Listen to "Meltdown" above and check out the full album here.