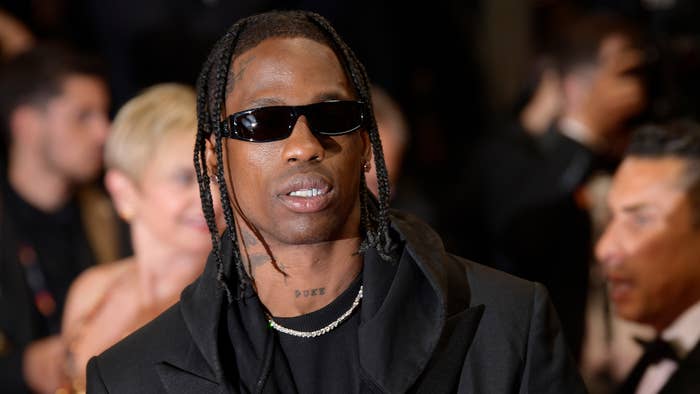 UPDATED 7/25, 12:28 p.m. ET: Looks like Utopia is indeed arriving on Friday after years of teasing.
In a series of social media updates on Tuesday, Travis Scott revealed that the long-awaited new album will feature a number of alternate covers. Furthermore, Scott confirmed (following his Rolling Loud comments) that Utopia, the album, would be arriving this week.
Not only that, but fans can also look forward to a theatrical rollout of Circus Maximus, featuring contributions from Harmony Korine and Gaspar Noe.
This isn't the only thing Scott and Korine have on the horizon.
See original story below.
Following the release of "K-Pop," Travis Scott has confirmed that his long-anticipated new album Utopia is finally on the horizon.
"Before I go, today will be the last day that I ever perform this set," he told the audience at the end of his Rolling Loud Miami performance on Saturday. "Utopia, I'll see you in a couple of days. I'm dropping a movie in theaters with my album on Friday, so I'll see you in the theaters. Movie is called Circus Maximus, I'll see you next week for Utopia. And I'll see you in Egypt if you can make it to the pyramids. Miami, I fucking love y'all."
Moments after leaving the stage, he left fans with an action-packed trailer for Circus Maximus, which has a July 28 release date. Assumedly, its release will coincide with Utopia, which Scott has been teasing for years.
Per Variety, his Cactus Jack Films imprint signed the deal with A24 to produce a number of projects, which he teased at the time with a first draft of a script entitled Utopia. "Life is a movie," he teased. "So is this album. [Cactus Jack] and [A24] set out to bring amazing content for the future. Thru film and media. Starting with this." While the trailer does not feature the logo for A24, the project could be the first thing to come from Scott's production deal with the company, which he signed in 2021.
The Houston rapper dropped the video for "K-Pop" with Bad Bunny and The Weeknd last week, the first taste of the record. In the video, he appeared to tease a stadium tour in support of Utopia. Before that, however, he's hosting a launch effort for the follow-up to 2018's Astroworld at the Pyramids of Giza in Egypt on July 28.