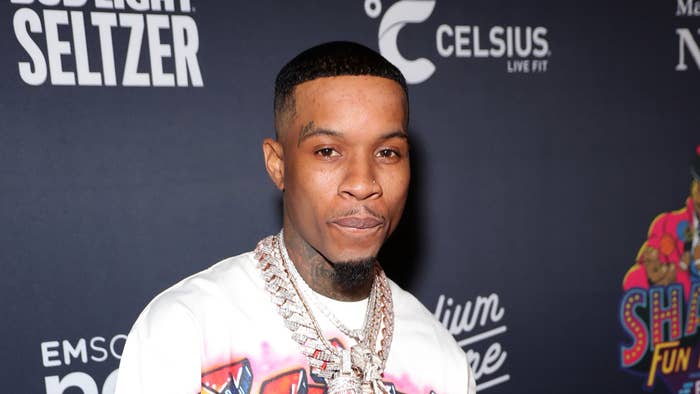 After several hearings across multiple days, Tory Lanez ​​​​​​'s request for a new trial was denied on Tuesday by Judge David Herriford, a source confirmed to Complex. The Canadian artist was previously found guilty of shooting Megan Thee Stallion.
Legal affairs journalist Meghann Cuniff noted that the proceedings regarding Lanez's motion were moved to a different floor of the court building on Monday for "extra security." The reason behind the decision was apparently because of rampant "online speculation" regarding the motion. "Everyone has to pass through a metal detector before going into the courtrooms," Cuniff added.
Also on Monday, Lanez, real name Daystar Peterson, asked the presiding judge not to "ruin" his life. 
Attorneys for Lanez filed the appeal to dismiss the charges against him in March. Attorney Jose Baez accused prosecutors of using a photo showing his chest tattoo of a firearm to insinuate to the jury that the rapper has a fondness for guns. The motion also cited threats to use some of his lyrics against him and attempts by witness Kelsey Nicole Harris to recant what she previously told prosecutors. 
In a 16-page opposition to the motion, Los Angeles prosecutors said the evidence against Lanez is "overwhelming" and the arguments that he should get another trial are unfounded. "The defendant's brief is replete with colorful rhetoric and conclusory statements, but it lacks substance," read the opposition, per Meghann Cuniff's Legal Affairs and Trials. "Despite being nearly 80 pages long, the defendant has failed to cite a single instance of error in the trial court."
Lanez previously hired former Suge Knight attorney David Kenner, while Baez most notably represented Casey Anthony in the trial over the killing of her daughter Caylee. Other clients of Baez include Aaron Hernandez in the murder of Odin Lloyd. Evidence used by prosecutors included "multiple eyewitnesses identifying him as the shooter, the gun used in the assault found at his feet, and recorded apologies for the shooting."
In December, Lanez was found guilty of assault with a semiautomatic firearm, having a concealed and loaded firearm in a vehicle, and discharge of a firearm with gross negligence. He is set to be sentenced at some point and is facing up to 22 years in prison.
Lanez remains in jail without bond.