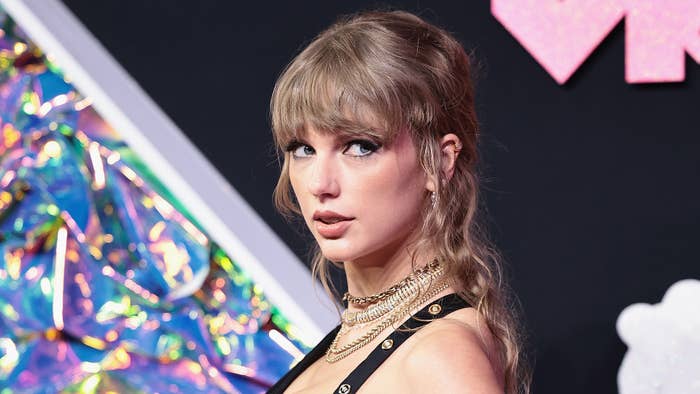 Taylor Swift appeared to be having the time of her life at the 2023 MTV VMAs, and she's already inspired a number of memes thanks to the audience camera.
The singer-songwriter, who walked away with nine awards at the show on Tuesday, was seen in the audience having a blast and dancing to almost every performer who got on stage. She was seen vibing to Demi Lovato, Lil Wayne, and Cardi B and Megan Thee Stallion delivering the live debut of their latest collaboration, "Bongos."
But her dancing wasn't the only thing that got fans reacting online, as she also appeared to break the $12,000 Van Cleef & Arpels ring she wore to the show. At one point, the camera showed her lifting up the ring to show its stone was missing.
Eventually, with the help of the venue staff, she was able to recover the stone.
During another moment, she appeared to struggle greatly with the cup holder at her seat, much to the amusement of her fans. Thankfully she was able to get her drink out eventually, but she clearly had some difficulty.
Another fan-favorite moment happened when she was set next to Ice Spice and appeared thrilled when someone came up to offer her another drink.
Swift had plenty of reasons to celebrate at the VMAs, as she took home nine of the eleven awards she was nominated for. "Anti-Hero" won Video of the Year, Song of the Year, Best Pop Video, Best Direction, Best Cinematography, and Best Visual Effects. Meanwhile, she also picked up Artist of the Year, Show of the Summer, and Album of the Year for Midnights. She now has a total of 23 VMA awards.
Check out some of the best memes about Taylor Swift's great night at the VMAs below.