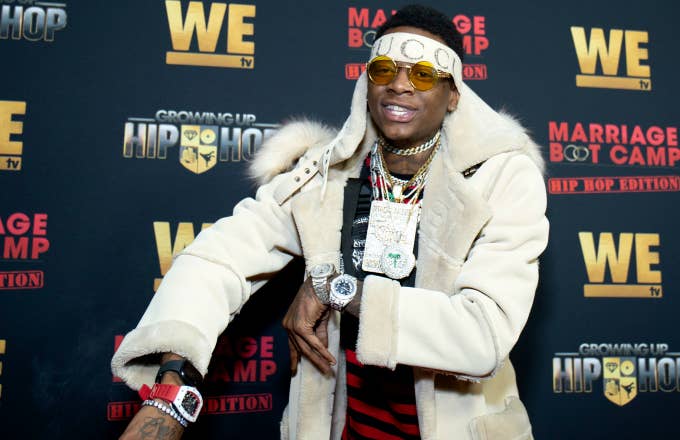 UPDATED 7:43 p.m. ET: Soulja Boy has been released from jail. A short while later, Soulja took to social media to say: "I'm not gonna go out like 6ix9ine, you got me f*cked up, bruh."
Soulja Boy went to jail earlier because he violated his probation - they found ammunition in his home. Big Soulja wasted no time getting out.

pic.twitter.com/KBYACbIroU
TMZ reports that Soulja has a hearing scheduled on March 29.
See original story below.
Soulja Boy has been arrested and his probation period has been extended again. According to TMZ, during a routine visit to his probation officer on Friday morning, the 28-year-old rapper was arrested because cops had found ammunition in his house last month after they executed a search warrant following assault allegations.
In 2016, Soulja Boy had his probation extended after cops discovered a weapon during a search, which resulted in the initial extension of his probation. He has been on probation since 2014 for a weapons charge, with a judge once again warning him that he is not allowed to possess any firearms.
This February, it was reported that Soulja Boy had allegedly beat and kidnapped a woman in his home. She claimed she previously dated the rapper, and accused him of kicking and punching her while she was on the floor. After which, she says he tied her up to a chair in his garage with an extension cord. He denied the allegations, while sources close to the situation claimed the woman in question turned up to his home drunk after they had split up.
When police executed their search warrant at his home, they discovered ammunition. Law enforcement reportedly waited to make their arrest, anticipating that he was scheduled to see his probation office. Soulja Boy has since been released and will perform at the Los Angeles Clippers game tonight.