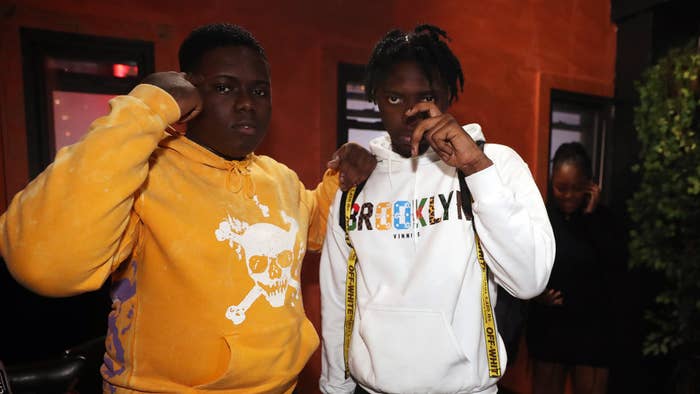 Sheff G and Sleepy Hallow are among 32 alleged gang members who have been accused of using pig Latin in phone conversations to describe crimes in an effort to avoid being caught by authorities.
Per XXL, the 140-count indictment against the rappers and 30 other suspected members of the 9 Ways and 8 Trey Crips gangs accused the defendants of going to extreme lengths to not be detected. According to the Brooklyn District Attorney's Office, the defendants deployed pig Latin when describing violent acts.
"Defendants and other members of the 8 Trey Crips and 9 Ways gang also used a distinct form of pig Latin to show gang allegiance and to attempt to disguise their discussions of acts of violence, gun possession and other gang business," reads the indictment. "In this version of pig Latin, the first letters or two of a word is removed from its beginning and moved to the end of the word, followed by the phrase 'oggada,' 'aggada,' or 'ay.' For example, 'shot' becomes 'otshay' or 'otshaggada' and 'chop' meaning firearm becomes 'opchay' or 'opchaggada.'"
This week the two rappers were arrested as part of the indictment. They have been accused of offering money and in exchange for committing acts of violence against rival gang members. Sheff G, in particular, allegedly "used the earnings from his music career to fuel gun violence in Brooklyn, by offering money and giving expensive jewelry to those who commit acts of violence."
In a response shared on his Instagram Stories, Hallow claimed he and Sheff G aren't guilty.
"Don't believe the internet," Sleepy Hallow wrote. "We innocent."