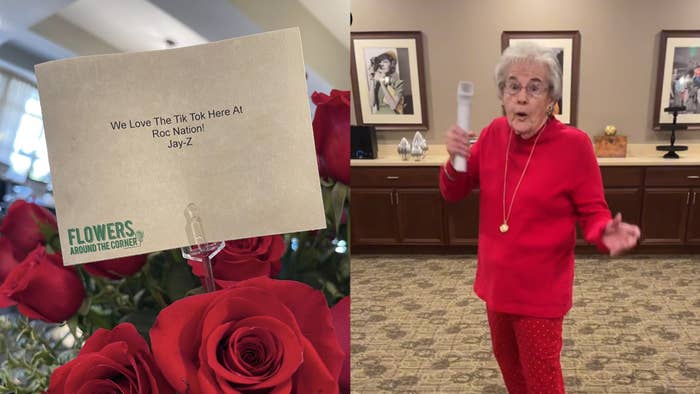 After the residents at Arcadia Senior Living in Bowling Green, Kentucky recreated Rihanna's Super Bowl halftime performance, Jay-Z personally sent them flowers.
The video was posted by the senior living facility's TikTok account, as seen below, and featured some of the residents dancing along to Rihanna's "Rude Boy." Since it was uploaded, it has garnered over 30 million views, 3.5 million likes, and 34,000 comments. It even got a comment from the official NFL TikTok account, which said, "Amazing."
Last week, the facility shared pictures of the red roses that Jay-Z sent. "We love the TikTOk here at Roc Nation!" reads a note included with the flowers. In a comment provided to Insider, the facility's director of community relations confirmed Jay sent them "100 red roses."
87-year-old Dora Martin, who portrayed Rihanna in the viral clip, said she watched the halftime show with her family. "It makes you younger to know that you can keep up with them," she said. "It keeps you young. I feel like I'm 16 years old."
In a post shared more recently, they showcased that Rihanna showed her appreciation with a bunch of white roses. "You ladies dance was amazing, love Roc Nation," her note alongside the flowers read.
As Arcadia's director of life engagement Mailtlin Nuckols told Insider, residents at the home didn't take a lot of convincing when they were asked if they wanted to make TikTok videos. "Some of them knew what it was," said Nuckols. "Some of them we had to kind of tell them what it was. But overall it was a great response. They love to do anything fun and engaging."