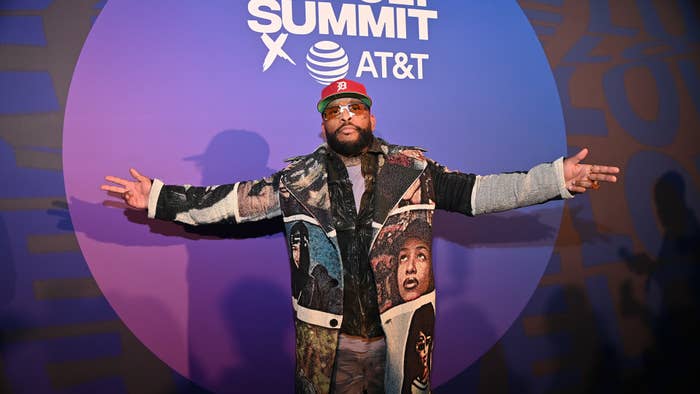 Royce da 5'9" has offered up his thoughts after the Game proclaimed himself a better rapper than Eminem.
During his recent appearance on Drink Champs, the Game said he used to think Eminem "was better" than him but now he thinks otherwise. "Is Eminem better than me? Nah, he not, bro," he said just days later in a clip shared on Instagram.
While Royce thinks Game is "a legend," he said the Compton rapper has a lot to prove if he wants to try and "outrap" Em.
On an Instagram Live stream with producer Mike Zombie, who has been in the studio with Game, Royce said, "I seen it, whenever anybody mention Em's name they make it a headline. … But I feel like, every MC should feel like that."
Royce didn't downplay Game's talent as a rapper, but he did suggest it's not easy to face-off against Em on a song, which he's done many times including on their joint album Bad Meets Evil.
"Game is a monster," he said. "He'll just have his hands full. Em is a hard dude to out-rap. Nine times out of 10, you'll be sending him your verse or when he get your verse...he gonna aim to out-rap you. He probably ain't get out-rapped ever, that competitive edge is always there."
Even though he's close with Eminem, Royce admitted he's "gotta hear" Game's new album when it arrives.
During the chat, Zombie also revealed he's been producing songs for that record, as have Hit-Boy and DJ Paul. "He got Ye on that joint?" asked Royce, to which Mike replied, "Yeah." The producer didn't want to spoil any other features, but teased that Game "got his point to prove" with the record.
After making his bold statements, the Game spoke out against people using Em's record-breaking commercial success against him this week. "All this talk I see on the net saying Eminem is better than me because he sold more records is like saying McDonald's is better than Tam's burgers," Game said. "It's FALSE!!! They just put more money in McDonald's [and] promoted the shit out the happy meal dangling toys in kids faces."
Watch what Royce had to say about the matter above.