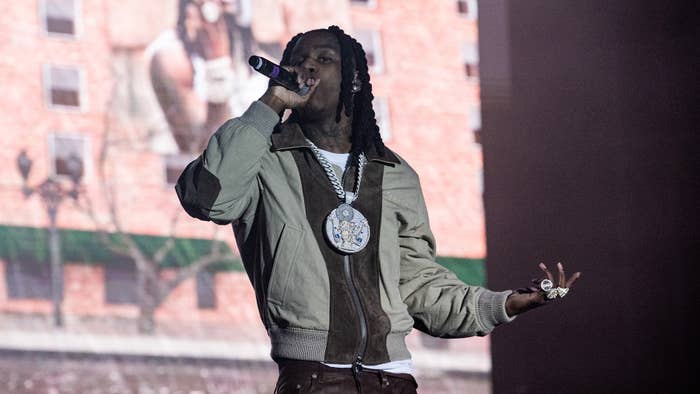 UPDATED Aug. 24, 2:45 p.m. ET: Following the raid on Polo G's house on Wednesday, the rapper and his brother Taurean Bartlett were arrested after they were initially released.
TMZ reports that Polo G, real name Taurus Tremani Bartlett, and his brother were released from police custody on Wednesday and then arrested again on outstanding warrants for assault with a deadly weapon, robbery, and kidnapping. Polo G was released from Burbank Jail at approximately 4:30 a.m. on Thursday, Aug 24 after posting a $100,000 bond.
His brother was released following the initial arrest after posting a $100k bond and was bailed out for the second arrest on another $100k bond.
See original story below.
Polo G was placed in handcuffs by authorities on Wednesday, Aug. 23 after the police raided his Los Angeles home and arrested four suspects.
TMZ reports that the Los Angeles Police Department arrived at his home on Wednesday with a search warrant. There was a large police presence outside of his home as everyone inside the property was ordered out one by one and placed in handcuffs. Authorities conducted a search of the home and four suspects have since been taken into custody, although they haven't been booked yet.
According to a representative for the rapper, Polo G was not one of the arrested suspects and is not the focus of the LAPD's investigation that led to the raid. "We are hopeful the LAPD will handle this matter with tact and transparency," added the representative. Polo G apparently plans to address the situation soon.
As shown in a video posted by his younger brother Taurean Bartlett, who releases music under the name Trench Baby, US Marshalls were present during the raid. "Bro, the US fucking marshalls got my house surrounded," he said in a video showing authorities pulled up outside the house. "What the fuck?" In a follow-up post, he wrote, "I love y'all man."
The exact circumstances surrounding the raid remain unclear.
Lawyer Bradford Cohen told TMZ, "Polo is being held under the guise that the police department needs to double check that he is not a convicted felon as there was a purported firearm found in the home. He is not and never was a convicted felon. Any previous charges he had I got dismissed and it's all public record. They are also denying myself and my California law partner Zoe Aron access to him while he is being illegally detained."
Earlier this month, Polo G told fans that he's considering retirement following the release of his upcoming fourth studio album, Hood Poet. "This rap shit got so lame and watered down," he wrote. "It ain't no fun it no more. ... Honestly after my Hood Poet album, I'm considering retiring from music. So I appreciate everybody riding for me 10 fold." The album will serve as a follow-up to the Chicago native's 2021 album, Hall of Fame.
Despite all the retirement talk, which should be taken with a grain of salt considering the tendency of rappers to walk back on "retirement," Polo G recently revealed that he's made millions off of songs with piano beats. "I made more than enough money trust me," Polo G wrote in since-deleted tweets. "#pianoG I made 30 million plus off that instrument."