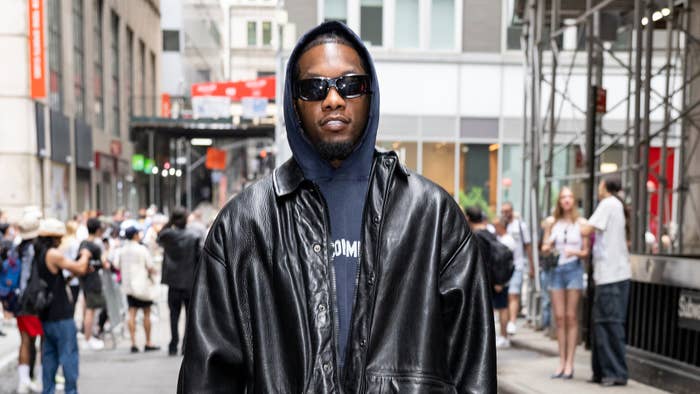 UPDATED 8/25, 10:30 a.m. ET: "Not only are the accusations in this lawsuit false, they are totally detached from reality. Offset remains a part of QC," a Quality Control rep told TMZ following news of Offset's suit against the label. "Back to business."
See original story below.
Shortly after dropping his new single "5 4 3 2 1," Offset has filed a lawsuit against Migos' record label Quality Control over the rights to his solo music.
As TMZ reports, Offset has accused the Atlanta-based record label of ignoring a deal he negotiated with them in January 2021 in regards to his solo career. Migos has released each of its studio projects through QC, and Offset's 2019 solo debut Father of 4 also dropped through the label alongside Motown Records. Offset's legal team said that he "paid handsomely" for his solo artist rights following the negotiation last year, but now QC has allegedly attempted to claim his latest track as its own.
His Baby Keem-produced single "5 4 3 2 1" is credited to Universal Music Group on streaming services, which is the parent company of Motown Records. But according to Offset, QC is trying to claim ownership over his new material in a "hostile" manner. The lawsuit comes ahead of his plans to share another new single featuring Moneybagg Yo on Friday. While Offset doesn't want QC to have anything to do with his solo music, Migos' deal with QC remains in place.
Quality Control CEO Pierre "P" Thomas addressed the lawsuit on Twitter. "The last lawsuit was filed publicly and dismissed quietly," he wrote. "Let's see how this one go. Been to real for all this lame shit. Everyone know the real problem." 
Offset caught wind of the tweet and responded, "N***as act like im the problem I paid millions to get my rights back N***a you black balled me I ain't said Shìt one time homie I ain't spoke to you in 2 years now I drop and you want ya name on my credit?"
Cardi B also commented on the situation under a post from @theneighborhoodtalk on Instagram, writing, "Offset bought himself out of his Qc deal after they didn't want to renegotiate his contract…. I'm tired of people trying to make Offset look like the bad guy ….Enough is enough!"
There's been some rumors as of late regarding the fate of Migos, with Offset pursuing his solo career and Quavo and Takeoff dropping music as a duo. In a recent interview, Quavo shot down the rumors and suggested that they're all just trying something new. "I feel like every group member has to establish themselves," he said. "Their own body of work. If not, you start losing members." Representatives have denied the trio has split.