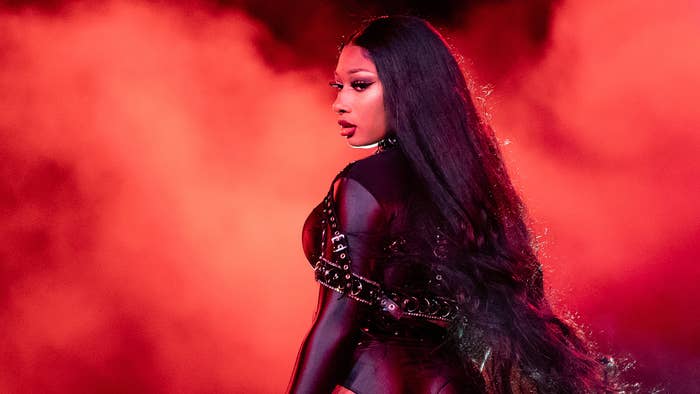 UPDATED 9/29, 11:30 a.m. ET: Billboardhas a new article saying a "source close to the Tory Lanez and Megan Thee Stallion situation" revealed Lanez's team impersonated members of Meg's label, 300 Entertainment, and sent emails to media outlets to "campaign" for the Canadian artist. His team reportedly fabricated texts between the two rappers and passed those along to media as well. A different source sent Billboard a screenshot of a message from "a fake email account for 300's head of creative, Kevin Leong, that was allegedly created by Lanez's team." It linked out to a report saying Megan wasn't interested in testifying against Tory.
300 acknowledged the situation to the magazine, stating, "In this day and age, digital security is of utmost importance. The email impersonation of our Head of Creative Kevin Leong, with the intent to disseminate false information has been brought to our attention and we are working diligently on Megan's behalf to get to the bottom of the matter."
Lanez's rep "strongly denies" the rapper's camp is behind the falsified communications, telling Billboard, "The only commentary which has been made on this topic was the creative output on the album. We are investigating who could be sending these false emails and intend to take action against them."
Billboard's report also contains anonymously sourced details about the night of the shooting. One source is quoted as saying, "[Lanez] was supposed to be dropping [Megan] off at home with her friend, and an argument ensued. He started calling her names. So she said she wanted to get out of the car. She got out of the car, walked away from the car, and at a short distance, he told her, 'dance bitch', pulled out a gun and shot [at] her four times. Two times hit her, one in each foot, and the other two missed her."
The source said Lanez texted apologies to Megan saying, "I'm your friend. I love you. Please. I was just drunk. Call me. I wanna make this work." Lanez allegedly began calling people in Meg's circle and eventually offered money while "saying he wants to make it right and wants to resolve this issue. He starts calling her day-to-day managers and said he wants to talk to her, reaches out to the security guard, all of that."
See original story below.
Following the release of Tory Lanez's ill-timed Daystar project, Megan Thee Stallion's lawyer reportedly stated that Tory's team is merely launching a "smear campaign" against her. 
Variety reports that Megan's attorney, Alex Spiro, said that Tory's team has constructed a narrative against Megan, who accused Tory of shooting her in both of her feet. "We have been made aware of manipulated text messages and invented email accounts that have been disseminated to the media in a calculated attempt to peddle a false narrative about the events that occurred on July the 12," Variety reports of Spiro's statement. "A smear campaign can't change the truth."
Tory Lanez spends the majority of Daystar addressing the July 12 shooting incident that left Megan Thee Stallion hospitalized with gunshot wounds in both her feet. Much of his lyrical insinuations and statements refute that he was who pulled the trigger on Meg. Tory, who was arrested during the incident on the night of July 12 for having a concealed weapon, suggests that he is being "framed" by her team for the shooting. Most emphatically, he rapped on "Money Over Fallouts" that he's the victim who is being plotted against. 
However, Megan, who was the first to speak up about the incident, has held firm to her statement that Tory was the shooting culprit. "Yes, this n***a Tory shot me," said Megan on Instagram last month. "You shot me, and you got your publicist and your people to [talk to] these blogs, lying and shit. Stop lying!" 
A representative for the Canadian rapper has denied that his team has attempted to spread false information over social media and emails. "A representative of Tory strongly denies sending emails or otherwise creating a false narrative," they replied. "The only commentary which has been made on this topic was the creative output on the album. We are investigating who could be sending these false emails and intend to take action against them."
One of the emails that Megan's reps mentioned included a three-minute video of a man who says he's Lanez's former bodyguard and that the rapper had never been violent towards women. Sources, meanwhile, have alleged that Tory Lanez told Megan, "Dance, bitch," before firing four shots at her feet. After the incident, he also allegedly sent a text message apologizing to her and offered her money in order to cover up the truth of the incident.