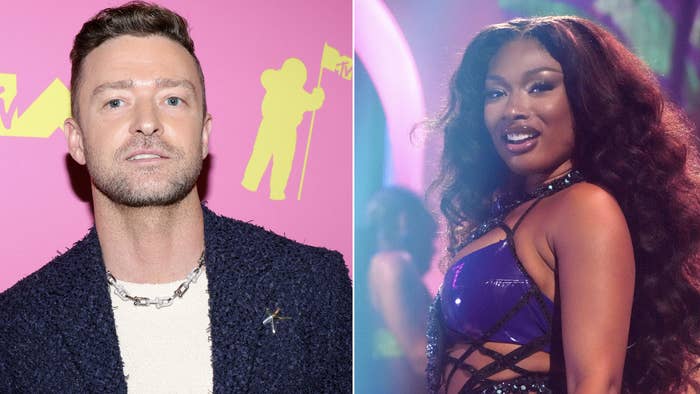 Megan Thee Stallion has shot down speculation she got into an argument with Justin Timberlake at the VMAs in a new post shared on TikTok.
In a video, the two artists can be seen laughing and hanging out while music plays. "I just talk with my hands lol 💁🏽‍♀️," she wrote in the caption of the video. "See ya next time @Justin Timberlake." While we can't hear what the two are saying in the video, it's soundtracked by "Fukai Mori" by Japanese band Do As Infinity, which served as the ending theme to one of the rapper's favorite anime series, Inuyasha.
In a video taken backstage at the 2023 MTV Video Music Awards, Megan Thee Stallion was seen talking to Timberlake and his reunited-for-the-night *NSYNC bandmates. At one point in the video, he appeared to lean in to say something to her. She responded in an animated way, wagging her finger at the boyband. The footage sparked speculation that Megan was not happy with something that was said to her.
A source later told Variety that there was "zero fight" between the artists, despite fan speculation. "He said, 'It's so nice to meet you,' and she said 'No, no this don't count, this don't count. We gotta meet proper.' It was very cute," an anonymous source shared.
At the VMAs, Megan took the stage to perform her Cardi B collaboration "Bongos" for the first time. The track serves as a follow-up of sorts to their megahit "WAP."
The song has been met enthusiastically by fans, but not everyone is convinced. On a recent episode of his podcast, Joe Budden suggested that the rappers missed the mark with "Bongos." He said it doesn't seem like it "has lasting power," in his opinion. "It's that hard-ass beat, the hook is not hooking for me," the podcaster and former rapper said. "There's nothing in it to make it stay, one, and two, I know y'all think Sexyy Red is paying me she's not, but this commercialized ratchet has passed."