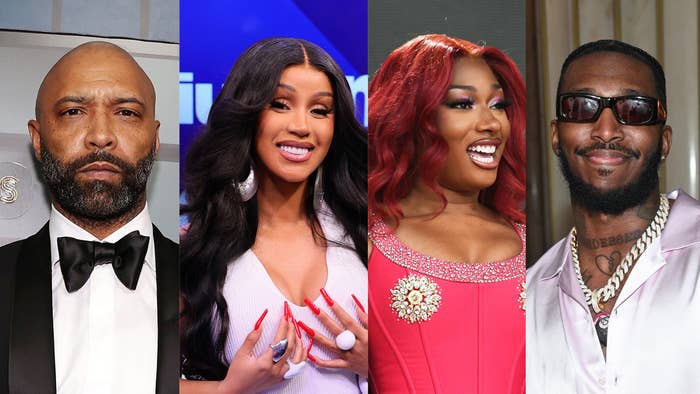 Joe Budden doesn't think Cardi B and Megan Thee Stallion's new single "Bongos" is a hit, and he thinks they need some songwriting help from Pardison Fontaine.
On the latest episode of The Joe Budden Podcast, the former rapper revealed how he felt about the new single that was released on Friday. According to Budden, Cardi and Meg missed the mark with "Bongos" as it doesn't feel like it has "lasting power."
"This record don't seem like it has lasting power," the podcaster said. "It's that hard-ass beat, the hook is not hooking for me, there's nothing in it to make it stay, one, and two, I know y'all think Sexyy Red is paying me she's not, but this commercialized ratchet has passed."
He continued, "It's ghetto ratchet time. Neither one of them are ghetto ratchet on this song. I think they both have potential to be, and Cardi normally smokes ghetto ratchet, but she's too big."
Joe Budden mentioned Cardi linking up with Kay Flock and others when she gets in her "ghetto ratchet" bag. However, she's "too big" to do it on her own and stated the Bronx-bred rapper needs to drop another "Bodak Yellow," while also claiming the "Bongos" collaborators can't make a song and "need to get some of the same writers back."
Pardison Fontaine is listed as a songwriter on "Bongos," and Joe Budden revealed that was a good idea for Cardi and Meg who both have worked with the "Backin' It Up" rapper.
"So that means y'all coming with the old sauce cause we know Pardison Fontaine well, we assumed he is not writing for either one of them today," Budden said. "We don't know, but this sound like...I don' t see it, I don't see it."
In her interview with The Breakfast Club last week, Cardi revealed her team initially wanted a Latin artist to be featured on the song, but she insisted that Megan hop on the track.
"My team wanted to go like more like Latin artists, and I was like, 'I hear Megan, yeah I hear Megan," Cardi said. "They're like, 'Really? You don't see it? Like you don't see this like more Latin?" But I'm like, 'Right, No I see Megan,' and then, like exactly what I was like hearing in my head, I sent her the song."
You can watch Cardi B and Megan Thee Stallion's video for "Bongos" here.