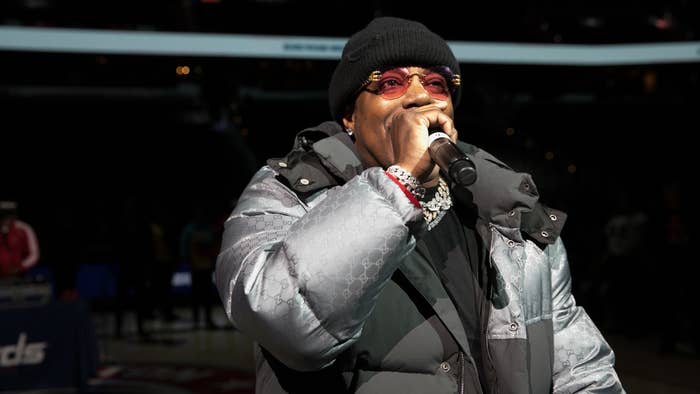 Mase has seemingly accused Diddy of canceling his tour with Cam'ron and Jadakiss in a video shared on Instagram and TikTok.
"It's Time To Show Cowards What Fearless Looks Like," the 47-year-old wrote in a caption alongside the video, which showed the Oct. 20 show of the 3 Headed Monster Tour as "canceled." 
Mase added, "I'm Not Stopping Nothing That I'm Doing! So Y'all Can Cancel All of The Dates I will not apologize for what's right! EITHER WAY I WILL BE PERFORMING SOMEWHERE Stay tuned albumS coming: #NowWeEven #WillieBurgers – KILLA x KISS #TheLiberationOfStMason Also, to my #1 hater BTS make sure you pull up since your trying to stop everything I do BTS. We know what's going on…but it's not gonna stop nothing—Can't Stop Won't Stop."
In the audio over the clip, he added, "You know me by now—you can't move me with money. I quit at the height of my career. I don't care about money, n***a, it's the principle."
All of the dates on the tour, which was to kick off this month, are no longer going ahead according to Ticketmaster. It's unclear when the cancelations happened, or if Diddy played a role in making it happen.
Cam'ron and Jadakiss have not yet commented on the canceled shows.
Mase's latest video comes not long after Diddy, 52, appeared on the Breakfast Club and denied claims he owed Mase money, and said the rapper actually owed him $3 million instead.
"[It] has really tried to stain my legacy," Diddy said. "I don't like to get in just talking people's business and things like that…[but] I can't have y'all following me, because I am here to be a leader and to give some direction, if you think that I'm a scumbag that will ever steal anything—my name is Diddy, Sean Combs, I never took nothing from nobody a day in my life. All I've ever given is opportunity and more money than a person was making."
Diddy said he only did one album with Mase, and as such he couldn't really owe him as much as the latter has claimed. "He became a fake pastor and went and conned people," said the mogul. "And y'all gon' let him throw dirt on the god's name. Anybody can come and step up. Bring your receipts." 
Mase fired back not long after, and accused Diddy of putting all his business dealings at Bad Boy under his mother's name, Janice Combs. "How dare this n***a talking about he want receipts?" Mase said in the clip. "Let's start with your mother, n***a. Your mother got the receipts, n***a. Everything is in your mother's name. That's the one who's got the receipts, n***a."