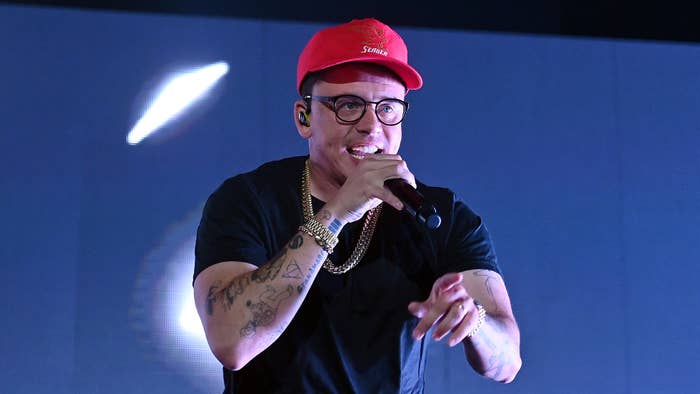 Following recent criticism of his cover of Ice Cube's "It Was a Good Day," has reshared his famous interview where he proclaimed "I don't fuck with nobody."
In a post originally shared on TikTok, Logic stood in front of a clip from the 2015 interview. "I don't fuck with nobody, like, at all," he said in the clip. "It's very simple, I stay at my house and it's just me and my homies and my fiancée and my little puppy I just got. I don't fuck with nobody, I don't go anywhere, I don't go to parties. I barely go outside. ... I refuse to allow any sort of cancer to spread in my life."
As he stands in front of the clip, which he captioned "and I still don't," he also flipped off the camera.
He also appeared to stand by his cover of the iconic track, by sharing a photo of him enjoying a drink alongside some lyrics from the track. "Then we played bones, and I'm yellin' domino," he captioned the photo.
Chief among those to criticize Logic over his cover was Cube's son O'Shea Jackson Jr., who was not a fan of Logic rapping a line that's about his mother, Kimberly Woodruff. "I respect Logic. I think he can rap. And that's all I really need," he wrote upon reposting the clip. "But bruh… if [I] ever hear you sing about my mother again… it's gone be a misunderstanding lmaoooo."
Joe Budden also made it clear he's not happy about the cover, too. In a recent episode of The Joe Budden Podcast, the rapper-turned-podcaster told Logic to "never step near a recording device again." It's far from the first time Budden has criticized Logic, but it is the first time in a while he's reiterated how much he does not like the Maryland rapper.
"Logic, I beg of you, I'm pleading with you: please join me in retirement. Never step near a recording device again," he said. "Throw your phone in the ocean! Be allergic to microphones! Promise your fans nothing! Don't go to the studio ever again! You are the worst, yo. You are really, really bad!" He and his co-hosts also questioned if Logic is "allowed to say n***a," and asked, "Who gave him that pass?"