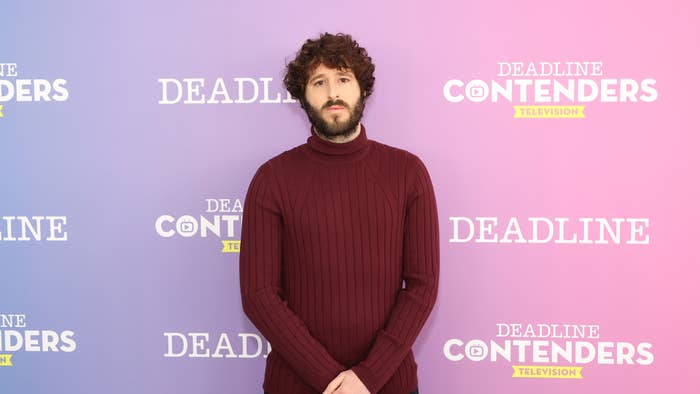 Lil Dicky, otherwise known as Dave Burd, has received major praise from some of his peers, telling the Hollywood Reporter that "all-time great rappers" have told him he's "a rapper's rapper."
While his FX series Dave has been met with an enthusiastic critical response, Lil Dicky's rap career is a little less prestige-y. In his extensive THR cover story, he said a lot of the criticism he's faced has come from "elitist, hipster journalists who thought that it was their place to speak on behalf of hip-hop." Dicky added that while he's faced a generally negative critical response, he's been "meeting the all-time great rappers and they're telling me, like, man, I'm a rapper's rapper." 
While Dicky didn't name names, THR points out that Busta Rhymes and 50 Cent have praised his skills, Snoop Dogg, T-Pain, and Rich Homie Quan all appeared on his debut studio album, Professional Rapper.
Elsewhere in the interview, Dicky addressed his controversial Chris Brown collaboration "Freaky Friday." The song and its video show Dicky and Brown swapping bodies for a day, a reference to the movie it's named after. When Dicky swaps with Brown in the song, he enthusiastically starts to sing the N-word over and over, which prompted some negative reactions online. Brown is the one actually saying the word, and Dicky has no regrets over the non-album single.
"[Chris Brown] walks right up to me, and he says, 'Hey man, I just want you to know, you're an incredible rapper,'" Dicky said about how "Freaky Friday" came to be. "And Chris Brown was my ringtone in the ninth grade, and it was just a very meaningful thing for someone to say to me at that time, and we kept in touch, and then we made that song, and I love that song. I still love that song. It went to No. 1 in multiple nations, and without that song, I don't know that I could have made [a charity single] like 'Earth,' where I raised, like, $3 million [to fight against climate change]." 
Check out the full interview with the rapper and creator of Dave here.